What is an OBD-II scanner?
Some of you might already be familiar with this important tech piece but for those who don't, let me briefly describe it for you. OBD II stands for On board diagnostics and constitutes a standard system of computer network in your car or truck.
It is used for diagnosing (or more accurately, self diagnosing) any issues concerned with the automobile and reporting it to the user.
This revolutionary system was developed and implemented by the society of Automobile Engineers known as the SAE.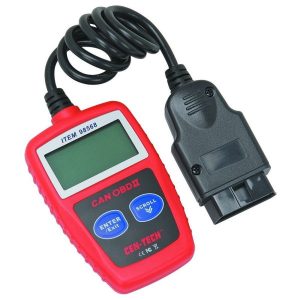 Now you might be wondering how OBD-II scanners are different from their predecessors, the OBD I scanners. In the latter the design and working was OEM–specific while their nest generation uses similar communication processes, connectors and code patterns.
This allows for a more extensive use of the equipment in automobiles of different makes and models i.e. automobiles produced after the year 1995 can be easily incorporated with these self diagnostic devices.
How to choose the right OBD II scanner?
By now, you might have gained some knowledge about OBD-II scanners and their functionality. Now let us look at all the different considerations to be taken into account while choosing an OBD II scanner.
The task of choosing an OBD II scanner would not be as easy as it seems. When setting out to buy one for yourselves you need to have precise knowledge on what your car wants.
As each car is unique and needs to be treated that way, choosing the right OBD II scanner is a somewhat hectic task.
However, once the installations are made your car is safer and the experience would be better than ever before. The right OBD II scanner would keep you safe and confident while on your drives.
What to look for when making the purchase
While setting out to purchase an OBD II scanner for your car, there are a few considerations you need to take care of. So here are some basic questions that you need to ask yourselves before making the purchase.
What level of functionality do you expect from your OBD-II Scanner?
Firstly make up your mind on what kind of a tool you really intend to have, whether you need a high end model or just a basic one.
The basic code reader is characterized by limited functionality. It is capable of a few things all of which are basically intended for notifying the user about an issue that needs to be diagnosed.
For those people who are a low on budget a basic code reader would be a good option.
The basic models suffers from an issue concerned with the compatibility i.e. not all car models can use these basic code readers.
Also don't get me wrong, the basic model is also quite an effective tool and a possible life saver.
On the other hand, the high end models are more advanced and provide great confidence and safety for the driver. They are more compatible for extensive use and is loaded with features and functionalities such as:
ABS and air bad control – The system can detect the anti lock breaking systems, air bags and some more functions of the car and is also capable of resetting them.
On screen information – the diagnostic codes are displayed right on the screen providing a better user experience.
Printability – the detected codes and subsequent results can be made into physical copies i.e. the information can be delivered to a printer if necessary.
Live feed – All information regarding the working state of the automobile and its sensors are displayed in real-time. This provides the user with precise and updated information and anything out of the ordinary is simultaneously reported.
Storage and data logging – The data and information are all stored safely in the sensor memory allowing it to be accessed anytime in the future. This data can be used in the identification of a particular car as well as assessing its past.
Is there any scope for upgrading the existing model?
Cheaper OBD II systems often provide no scope for any sort of upgrade. So it is often recommended that you go for high end models which might be a bit expensive at first but in the long run seems to be quite an acceptable bargain if the model can be updated in the future.
The importance of updating these diagnostic devices can be understood by considering the case of a smart phone. You would update apps on your phone to get better features and usability and in the same way you need to upgrade these systems as well to get more features and to be used with newer car models.
These updates may not be free always, so it is always advisable that you enquire about the costs well in advance.
Would a particular model of OBD-II system be compatible with your car?
OBD II systems are basically of five types based on the signal processing procedure. So you should always ensure that you would not face any compatibility issues when installing one of these types in your car.
There may be some products in the market advertised as cent percent compatible, but it is always safe to ensure the same before purchase.
What type of OBD-II scanner do you require?
PC based scanners – There are PC based automatic scanners available in the market and they draw power from the PC to operate. They are effective systems for diagnosing as well as troubleshooting issues in your automobile.

OBD II Bluetooth scanners – These systems works through your smart phones or tablets by making use of Bluetooth connectivity. This works even with computers and serves as an advanced scan tool that detects, notifies and troubleshoots any engine or sensor issues that your vehicle may face.

The hand-held scanners – Handheld automatic scanning devices are used mainly by professionals and mechanics to detect and diagnose issues concerned with the engine, brakes or even the transmission systems of an automobile. They are more sturdy and advanced devices with better and more informative display of data. The system comes in a package and comprises of a power supply, a cable to transmit the power, an additional battery pack and so on.

The brand matters
In the case of products like an OBD 2 scanner where no chances can be taken, the brand is a very important factor while making the choice.
In the case of OBD II scanners, the market is rich in quality brands that have offered great quality and service over the years.
So the choice is not limited even when we are looking for the top brands in the list.
Some of the brand names you can consider are Innova, Autel, Actron, OTC, ScanTool, Bluedriver, Vgate, Big Banana, Lauch Tech USA and Bafx Products.
Each of these products offers large varieties of product ranges resulting in a mammoth collection of products.
Characteristics of an ideal OBD-II scanner
We may define some basic characteristics that an OBD-II scanner must possess in order to qualify as a top purchase.
The delay in producing the reading should be as small as possible i.e. the diagnostic system should produce a result with great accuracy instantaneously.
The compatibility should be there for any model or make. Even earlier car models should be able to work with the system.
The system should be user friendly and easy to understand. Even people with less experience in suing such devices should be able to operate the system with ease.
The system should have storage to store data and information for future reference.
Should run on all platforms alike without glitches or errors.
The database or the software should be capable of an upgrade so as to support new upcoming features.
The display screen should be large and vibrant with good readability and a neat and categorized display of all necessary information.
The system should have an alternative power source other than a durable and long lasting main source.
All attachments and adapters should be provided with the product it and its replacement must be available easily in case some damage occurs.
The product should be well worth of the money paid by the customer.
The scanner should be equipped with wireless connectivity as well as al modern amenities available.
The product should have a warranty offered directly from the manufacturer of the product.
Top recommendation for OBD II scanners
OBD II scanners are available in different brands, models, features and functionalities.
So choosing the right one for your car may not be that simple a task. Given below are some of the best products coming from different brands, making no compromises on quality.
This list of products almost makes the cut to being an ideal option with all the above requirements satisfied.
They are all provided by top brand names and thus quality is an unquestionable factor. So here is the list of top products that can buy to keep you safe and confident on your drives.
Conclusion
Choosing the right OBD II scanner is strenuous task and calls for a great deal of research and knowledge.
The different products brought to the market by quality brands are all advantageous in their own ways and falls short in some aspects too.
Thus a single product that fits all criterion of an ideal product is nonexistent. As the requirements also vary from customer to customer, the manufacturers cannot design a product that suits everyone alike.
So it is us consumers who needs to make the right choices from the vast collection of products available out there.
This may require a great deal of effort in the form of research done online as well as that through your friends and relations.
It also requires great knowledge o various aspects of your car itself. This is because, each car is unique in a way and choosing the best for your car needs best knowledge of your car as well.
However, after all this hectic business of choosing the right OBD-II scanner for you automobile and after you have installed the right one, then you can feel safe and sound throughout your drives with all risks taken care of.