Nothing can make your day better than a "Check Engine" light popping up on your dashboard. Why? Because Now you can troubleshoot the issue  of your car on your own. This is a time and money saver deal.
An engine code reader or scanner will help you to decide whether it's safe to keep driving following the ongoing issue in your car. It can even help you in resolving the issue.
It works on a simple concept of plugging into the car's computer system and displaying a "trouble code."
What is a
car code reader?
It's one of the simplest car diagnostic tools that run to a complete range from low tech gear to the prohibitively expensive equipment used by professional automotive technicians.
They are designed to interface with a car's computer and report trouble codes in a very no-frills sort of way.
How does a car code reader work?
In the late 1980s, computer control started to show up on cars and then these systems rapidly grew in complexity.
Earlier computer controls included basic on-board diagnostic (OBD) functionality.
It is divided into 2 parts OBD-I standard and later in 1995, automakers around the world started transitioning towards the universal OBD-II standard, which is used widely.
Both OBD-I and OBD-II systems work the same way where they monitor a variety of sensor inputs and outputs.
If the system determines that anything is out of spec, it sets a "trouble code" that can be used in diagnostic procedures. Each code corresponds to a specific fault.
When a trouble code is set, a special indicator known as turn-off Malfunction Indicator Light (MIL) lights up.
Every OBD system has some type of connector that can be used to retrieve codes. In OBD-I systems, it is sometimes possible to use this connector to check codes without a car code reader.
Benefits of a code reader car
When you purchase a code reader car,  get information on what is going wrong with your vehicle. You will find that a diagnostic tool can figure out what is wrong with your car so that you can apply a fix faster.
There are several benefits of a code reader car:
1) Diagnostic Standards are in Place

The computer interfaces for most modern vehicles are similar. The car has chips that run the major work of their processes.

This makes it easier to figure out the problems, apply fixes, and you can save your money.

With elements, such as OBD tools, one can plug into the interface of any vehicle and get codes in regards to anything that is going wrong.

If anything is going wrong within the car, the codes will spit out the error code. Hence this makes working a lot easier.

2) Comprehensive Scanning

Comprehensive scanning is one way to ensure that cars are staying on the road for the long term, and of course, saving money for car owners.

The best benefit to readers is that the electrical components can be scanned exhaustively.

Readers can look into all the computer modules and determine if there's anything not moving forward properly. This can help with saving money for car owners on a large scale.

3) Easy to Read Codes

As you look into the reader's diagnostic tools you will find a code. Each code tells the mechanic the source of a problem.

The thing here is that the codes are easy to read, and can be compared to the owner's manual to diagnose the main issue of a car.

Once the information is in the hands of a trained professional, again, a fix can be applied with relative ease.

4) Lower Cost Maintenance and Fixes

There are several diagnostic tools and code reader solutions in the market today. There are consumer-level solutions, options directly from auto manufacturers, and those that are purchased by mechanics and body shops.

Each one helps with fixing a vehicle properly and more quickly. This only works for modern cars, as older models will not be able to get the same kind of focus.
What can a car code reader do?
Once the OBD socket has been located then the car code reader will interface with the car's computer. Simple code readers can draw power through an OBD-II connection that will power it up and turn it on.
At that point, one will be able to read and clear the codes, view basic parameter ID and check readiness monitor.
Is it worth buying a code reader car?
If you drive a car then yes it's worth buying a code reader car. It's a monitoring system for car and you get to know its condition all the time.
If you do your own repairs, you will likely want one that can do more than just pull trouble codes and reset the warning light, like looking at live engine data, graphing various parameters vs. time, or operating the different actuators and motors on command for troubleshooting purposes.
Hence you might feel a bit confused to determine which should be the most suitable option for you. But don't worry, we have sorted out some of the best products that are available on Amazon.
This will save your time, effort and at the same time will help you to make the right buying decision.
1) Wsiiroon Professional OBD2 Scanner, (Upgraded SR850)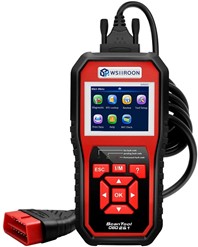 Wsiiroon Professional OBD2 is a professional diagnostic scan tool which includes read and clears DTCs, read dynamic data stream, read vehicle information, O2 sensor test, EVAP system test, on-board monitor test, turn-off Malfunction Indicator Light (MIL), print data to PC, permanent code retrieval, and many more.
It has the best powerful compatibility as it Supports all OBDII protocols such as KWP2000, ISO9141, J1850 VPW, J1850 PWM, and CAN.
It is built with a smart design with various features such as  LCD color screen and unique dust-resistant surface which is durable and strong.
Audio feedback and 3 LED indicators tell you the trouble codes status and allow you to diagnose vehicles faster and make it more convenient to operate.
Also, it provides a life-time free software update to fix the latest bugs or add newly parameters.
2) BlueDriver LSB2 Bluetooth Pro OBDII Scan Tool for iPhone & Android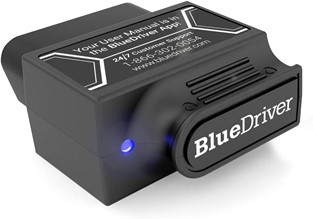 BlueDriver LSB2 Bluetooth Pro OBDII  is available at $99.95 which is as easy to use as a code reader with all the capabilities of an expensive handheld scan tool besides the benefits of your smartphone or tablet.
Get your unlimited free vehicle-specific generated from their database of millions of fixes verified by ASE Certified Mechanics.
The BlueDriver App and BlueDriver Sensor work exclusively with each other to ensure quality.
BlueDriver is the Professional OBD2 Diagnostic Scan Tool trusted by mechanics and developed by Professional Engineers in North America.
It is officially licensed and certified for Apple and Android users.
3) Veepeak OBD2 Scanner OBD II Diagnostic Scan Tool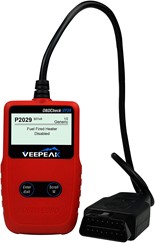 Veepeak OBD2 has a strong wide vehicle coverage that works with all OBD-II/EOBD compliant vehicles available worldwide at $19.99 that supports CAN, VPW, PWM, ISO, and KWP 2000 protocols.
It serves various functions such as view freeze frame data, display I/M readiness monitors and retrieves vehicle information (VIN, CIN, and CVN).
It reads and clears generic and manufacturer specific Diagnostic Trouble Codes (DTCs) and reset check engine light.
Its special features are simple to use with large display stand-alone units without the need for an additional laptop or phone to operate also it does not need any software or batteries.
Another advantage is that it does not read other systems like abs, airbag, oil change or maintenance required light, etc.
4) NEXPEAK OBD2 Scanner Orange-Black Color Display with Battery Test Function, 2.8″ Car Diagnostic Scan Tool Vehicle Check Engine Light Analyzer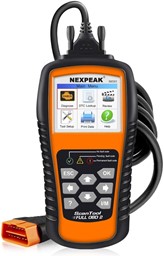 NEXPEAK OBD2 is a highly professional quality auto scanner at just $69.95 which allows you to check all engine related fault codes, troubleshoot check engine light alerts, turn-off the Malfunction Indicator Lamp (MIL).
It's a perfect scan tool for fixing and maintaining your car thus helping you to save time and money.
It offers a wide array of compatibility including sedans, SUVs, light trucks, and 12V diesel. This is a plug-and-play engine diagnostic code reader with no additional batteries or apps required.
The NEXPEAK NX501 car computer reader includes a 2.8-inch color LCD screen with a user-friendly interface offering best class performance and stability to give you car diagnostics just like the professionals.
The scanner comes with a free lifetime smart update service like a built-in memory card that allows you to store diagnostic data and then upload it to a computer for printing. This OBD2 code scanner is a must-have tool for you and your family.
5) OBDLink 426101 ScanTool MX Bluetooth: Professional Grade OBD-II Automotive Scan Tool for Windows and Android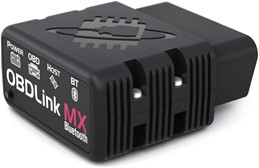 OBDLink 426101 is a high-speed scan tool available at a price rate of $69.95  that transforms your Windows PC, laptop, or phone into a super-fast, accurate automotive diagnostic device.
It includes the OBDLink app for Android and OBDwiz for Windows that makes it compatible with apps such as Torque and DashCommand thus providing free android app and window software.
It provides maximum vehicle coverage that works on more than 1996 cars and light trucks sold in the USA supporting all 5 OBD-II protocols ensuring a guarantee of 3 years.
6) ANCEL AD310 Classic Enhanced Universal OBD II Scanner Car Engine Fault Code Reader CAN Diagnostic Scan Tool-Black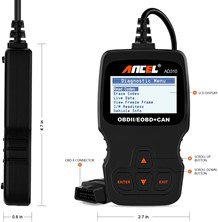 ANCEL AD310 is known for its unique classic design, fast scan, and clear trouble codes, even a beginner can use this unit to read the error code. It is available at $34.99.
It's equipped with a 2.5 feet long cable and made of a very thick flexible insulator. There are 4 buttons on AD310. The Up and Down button for scrolling the menu, the Enter and Exit button allow for navigation back and entering the menu.
It works on  OBD II & CAN domestic or import vehicles.
It easily determines the cause of the check engine light such as I/M monitor readiness test, read hard memory and historic codes while showing definitions.
7) Udiag OBD2 Scanner OBD Car Diagnostic Tool Cars Code Reader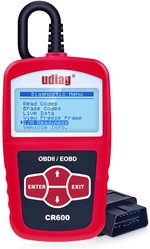 Udiag OBD2 is a scanner with no battery requirement just plug with the DLC then paly.
The Up and Down button is for scrolling the menu, the Enter and Exit button allows for navigation back and entering the menu.
Built-in the DTC lookup library can directly let you know what the fault code means.
CR600 car code reader must be a spared tool in your car, it can quickly read and erase DTC and this process only take 1-3 minutes.
It's not worth driving to your local garage or parts shop for a scan and possibly get an unnecessary sales pitch.
=======
Conclusion:
If you are the type of person who is always running to the mechanic for a repair, no matter if your a professional mechanic or a car enthusiast, having a professional car code reader will help you out to solve the problem.
Now you can easily check the car yourself.
Code readers are convenient for car owners and mechanics by simply looking to read and clear some diagnostic codes.
Any code reader will be able to read, display, and clear codes, and reset the check engine light. So what are you waiting for?
Have your own car code reader loaded with advanced functions that can be beneficial for you working in the automotive world.