A car scanning tool is an electronic device which is used to detect errors in the vehicle or reprogram the car's control system modules and to establish interaction between two different systems.
There are an ample number of car scanning tools in the market which are being produced by various organizations like Snap-On, Hella Gutmann Solutions, OTC/SPX, Autel,  Launch and Vetronix/Bosch etc.
The scanning gadget is being connected with the DLC which stands for data link connector due to which it can only read the diagnostic trouble codes.
There are also other types of scanner tools which also has bi-directional controls.
The automotive scanner or a car scanner tool provides the best user experience. The usage of automotive diagnostic scanner gives a large number of advantages like they are very easy to use and provides great support.
Car diagnostic tools have got a large database of trouble codes which is helpful in resolving errors.
Apart from all these benefits, these tools are very user-friendly and cover the problems of major car models that too at affordable prices.
These car scanner tools have the capability of reading codes as well as clearing it. These tools also have access to live and recorded data which also gives them permission to troubleshoot and read the manufacturer- specific codes.
These scanner tools have also got some major functions like checking the incomplete codes, modifying the parameter's list and setting up of PIDs.
Car scanner is one of the most essential scanner tools as it has the ability to scan the errors in the vehicle, which is one of the most tedious tasks.
If you have a problem with your vehicle, so its a better idea to get it scanned through the diagnostic scanner rather going to the mechanic again and again.
Different Car Scanning Tools



 1) Nexpeak OBD II Scanner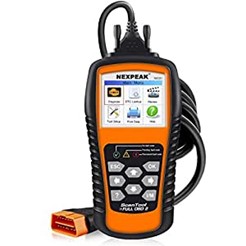 Nexpeak car scanner is compatible with both the gas and diesel vehicles.
This scanner tools all types of OBDII-protocol cars which also got an interface of 16 pins.
But, this scanner is only suitable for 12V vehicles. One of the most beneficial thing about this car scanner is that it is very convenient to use even for the beginners as it is a plug-and-play car scanner.
Nexpeak OBD II Scanner is efficient in several ways as it can read the car's information, whether it is related to storing the emission of the car, checking incomplete codes, performing the onboard test, O2 sensor test and EVAP leak test etc.
2) FOXWELL NT301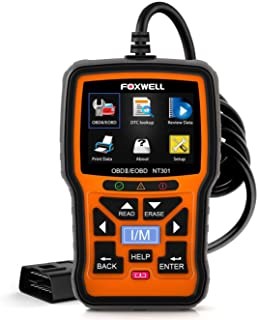 The FOXWELL NT301 OBD2 scanner is one of the best car scanning tools. This car scanner is excellent in reading codes and detecting malfunction errors in your car.
The major features of this scanning tool are that it is easy to read as well as display, it has got responsive buttons which makes it more convenient to use it and lastly, to provide excellent customer experience it has got a well-organized menu.
This scanning device is compatible with any type and model of car. Apart from reading and erasing codes, it is also good in catching intermediate problems of the present or the previous drive cycle.
One of the main reason as to why this car scanning tool has stood out is that it supports multiple requests for the codes and secondly this device is very much durable and has got a longer life.
3) Innova Color Screen with Bluetooth 3160g Code Reader/Scan Tool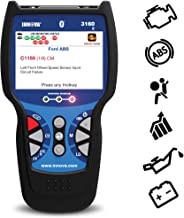 The Innova colour screen with Bluetooth works both as a code reader as well as a car scanner tool and has an asset of handling troubleshooting of every level.
The Innova scanner has a new feature through which it can read and erase power train codes as well as the ABS codes on the vehicles.
Another benefit which this scanner offers is that it allows you to read vehicle codes in English, Spanish and French etc.
The major features of this scanner include patented emissions monitors status icons, colour-coded smog test and road trip readiness indicators, FixAssist, a built-in fix-tip database, code severity, freeze frame diagnostic information and Bluetooth compatibility.
Though this scanner has ample of benefits, on the other hand, it has also got some cons like it cannot work on some vehicles like Mercedes and Mitsubishi are the examples of it.
In some cases, it is observed that it reads wrong description code which sometimes becomes a time-consuming process to correct it.
4)  ANCEL AD310 Classic Enhanced Universal Diagnostic Scan Tool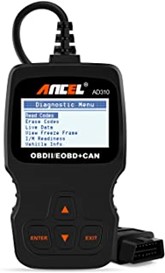 The ANCEL AD310 classic enhanced universal diagnostic scan tool is one of the frequently used car scanning tool, as it is simple to use and easy to catch the faults in the car engine.
This car scanner tool offers some of the most essential features like checking of the engine, monitoring readiness test, viewing of frame data etc.
ANCEL AD310 is very affordable and supports all OBD II protocols which makes it suitable for various kinds of vehicles.
The major benefits of this car scanner tool are that it doesn't require you to install any application on your smartphone.
This car scanner is affordable in terms of prices as compared to other scanning tools.
Though it comes with many benefits, on the other hand, it has also got some drawbacks like it doesn't work with vehicles like 2005 Toyota Prius, 2008 BMW, and the 2004 Ford Escape X.
Frequent usage of car scanning tools provides a large number of advantages as it accommodates to the saving of consumers money.
The scanning can detect many problems in the car by checking the codes and the engine light.
Apart from all these benefits using a scanning tool to detect the problems in your vehicle can also increase its life by giving early information about the threat.
These scanning tools are compatible for a wide range of variety of vehicles, which allows the user to choose a scanner from any brand. However, there are still some scanners which didn't support a few car models.