Most enthusiasts will agree that their car is part of the family. We all love our cars and the relationships we can build with them, but modification is what we do.
As technology has hit its stride in recent years with a variety of traditional options in the market, one such professional yet unique device is an OBD2 adapter that pairs wirelessly with your Android or iOS smartphone and has made possible for everyone to get access to information regarding fuel efficiency, diagnose check engine lights, and gather a ton of other useful data making your driving experience more connected and enjoyable.
What is an OBD2 adapter?
An OBD2 adapter is also known as a vehicle interface adapter is an electronic device that allows a computer to access the vehicle network. It is similar in operation to a computer modem or a gateway, in that it translates messages from one protocol to another.
The adapter plugs into the car's OBD2 port and enables various functions such as performing diagnostics, resetting fault, reading live engine sensor data, or even customizing the car's configuration.
Apps that usually connect to an OBD2 adapter in one of three ways:
Bluetooth to Android.
Bluetooth Low Energy (LE) to iOS and Android.
Wi-Fi to iOS and Android.
The most common type of OBD2 adapter is an ELM327 adapter. This can work with most of the apps on Android and iOS smartphones.
ELM327 is a communication standard that defines how an app can communicate with an OBD2 adapter with the vehicle.
How to choose an OBD2 adapter?
While choosing an adapter, you must consider the following things like:
The platform you plan to use such as iOS, Android, or Windows.
The type of adapters such as Bluetooth or Wi-Fi.
The features supported by the adapter such as MS-CAN, size, and upgradeability.
The adapter type depends on the platform you are using. For example, if you are using an iPhone or iPad then you will be limited to Wi-Fi or Bluetooth LE adapters.
In general, we recommend Bluetooth LE for iOS, Bluetooth for Android, and USB for Windows.
However, you will need to consider your specific requirements before you make a decision.
How to use an OBD2 adapter?
Once you have decided which type of adapter you want to use, then you will need to plug it into your car.
The port may be in different places depending on your car's model, but it's legally within two feet of the steering wheel. Usually, it's just underneath the wheel, or near the fuse panel. Once you find it, plug the adapter in that port.
Next, open up your phone. Pair up your phone with an adapter via Bluetooth.
Find the OBD-II adapter in the list of devices and then tap on it.
Enter 4 digit pin in your phone that is labeled on your adapter. Once you have entered the pin tap on ok and check your adapter in the list of devices.
Once the pairing is complete, allow the phone to connect to your vehicle's Electronic Control Unit (ECU). Click on read fault codes. If your check engine light is on, you will get a diagnostic trouble code and a description of what it means. You can also monitor the readiness status to see if your vehicle is ready to pass the emission or smog test.
Benefits of using an OBD2 adapter
The benefits of using an OBD2 have notably made the adapters to be the best among the OBD brands. It is without a doubt that they have been the most recommended electronic devices ever used on cars. Getting yourself an adapter will be the best thing ever in your motoring life in spite of going to a mechanic.
Save money on minor repairs
One of the best benefits of having an OBD2 adapter for your car is that you can save money. You may be surprised by what little things can do to your vehicle's engine, and more. For instance, you may think that you need a new engine or radiator, but perhaps you just need to add coolant or oil to your system. That little trick could cost you a few hundred dollars if you go into the mechanic's shop. If it's minor, you can get the parts and fix it yourself with ease.
Highly durable
Most of the current OBD2 adapters are known to be enabled with the ability to update on the wireless media. This allows the adapters to last longer, serving the user better. Unlike most of the readers who were known to have specific lifelines.
Efficiency
The coding nature of the OBD2 adapters is regarded to bring a lot of change to the car repair and maintenance process. In the past, it was sad to note that motorists had to experience the agony of having to the car to the nearest garage even though in the end, a lot of time would be consumed trying to solve even the slightest of faults.
The best OBD2 adapter can monitor and interpret all the codes. Once you purchase an OBD2 adapter, it will save both, your time and money.
Hence you might feel a bit confused to determine which should be the most suitable option for you. But don't worry, we have made an extensive analysis and sorted out some of the best products that are presently available on Amazon.
BlueDriver Professional OBD-II Bluetooth Adapter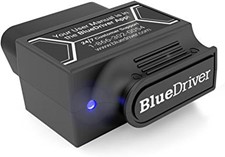 BlueDriver's Bluetooth OBD2 adapter is designed to work exclusively with high quality and accuracy.
It was developed by professional engineers and it's used by mechanics all over North America.
The scan tool is officially licensed to work on both Android and Apple devices.
The scan tool is very easy to use. It acts as a code reader and has all the capabilities of a professional scan tool, alongside the benefits of using your smartphone or tablet.
You'll be able to receive free app updates, save all your data, port your data from one device to another, and have an interactive graphic of the live data.
The scan tool is able to read and clear all CEL codes, those that are confirmed, pending or permanent ones for all car models.
It can read and clear enhanced codes, such as the ABS or transmission for every model belonging to Ford, Toyota, GM, and Chrysler.
Additionally, it repairs code definition, reported fixes and possible causes specific for every vehicle.
ScanTool OBDLink LX OBD2 Bluetooth Adapter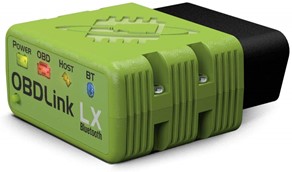 Here is another mini durable Bluetooth OBD2 adapter that works for months and even for several years. This adapter comes in green color featuring 4 different lights, Bluetooth, Host, Power, and OBD led light.
Each light indicates the current status of the adapter.
You shouldn't have any trouble using this tool. It's really easy and straightforward to install. Find the OBD-II port of your car, plug the tool in, wait for it to complete the installation.
It then transforms your phone, tablet, or PC in a professional automotive scan tool and you are simply good to go.
You don't have to unplug this device from your vehicle every time you are done using it. This tool is specially designed to turn off without running your car's battery dry. It's compatible with Android and Windows devices,
Panlong Bluetooth OBD2 Scan Adapter
Low key and low in cost, are a great combination for an OBD2 Bluetooth module. Panlong is the most affordable option that we have seen so far.
Panlong OBD2 Scan Adapter allows you to pair this device up with any Android device, and let you scan for general codes and monitor your vehicle's system.
Once you install it, it's virtually invisible due to the sheer size. Being an OBD2 means you need to use it on vehicles 1996 or newer.
Hikeren OBD2 Bluetooth Adapter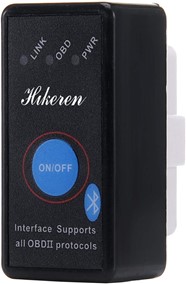 If you are looking for an inexpensive option for buying a Bluetooth OBD2 adapter, the Hikeren is what you should be looking into. It cost around 13 dollars. It is very small in size and will be very low profile when installed. It comes in a black or transparent blue color, with a simple on and off switch located on the unit itself.
Hikeren OBD2 adapter allows you to clear trouble codes, see exactly what may be wrong with your car and at times, allow you to fix the vehicle yourself without having to take it to the shop or mechanic.
This OBD2 Bluetooth adapter is compatible with any android mobile device, such as phones and tablets. Simply hook up the adapter to the port located in your vehicle, turn it on, get Bluetooth going on your mobile device and complete the pairing up process then you are good to go.
iAutomobil Bluetooth OBD2 Scan Tool Adapter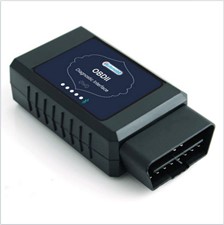 Another great Bluetooth OBD2 adapter is Automobil available at a very reasonable price.  Nothing out of the ordinary is here with this adapter, just a basic designed adapter that simply plugs into the OBD2 port.
iAutomobil Bluetooth OBD2 adapter allows you to scan for codes and monitor your vehicle's system using a mobile device.
What's great about iAutomobil OBD2 adapter is that you get a lifetime money-back guarantee, a free phone app and you got yourself a tool that will help you troubleshoot your vehicle's issues in no time.
OBD2 adapter is a wonderful piece of technology. New wireless Bluetooth models work with most types of wireless devices.
These high-tech models have made these complex scanning and real-time diagnostics available even for consumers on a tight budget.
These OBD2 adapters sync up to your smartphone in a matter of seconds and can provide easy vehicle assessment and scanning of currently running systems.
This type of adapter can read, clear, reset fault codes or monitor your engine performance on your smartphone hence making the experience with your car easy, convenient and fun.