Purpose of this article is to save you time researching reliable professional OBD software for your PC/laptop/mobile. Because competing automotive scan tools have saturated the market for sake of profit, this trend has shifted focus away from features.
For this reason, we've felt compelled to bring light to established innovators of diagnostics solutions. Each company mentioned below has a long track record of OBD2 expertise.

For example, a standard car driver will neglect subtle, yet important differences in two OBD reader kits. Because both are independently convincing.
Although our years of vehicle workshop experience easily identifies a "me-too" check-engine-light reader  – from OBD-2 software approved by savvy automotive technicians. This article focuses on later.

Meaning we won't focus on mobile apps, but on laptop software. Frankly, we're not fond of Android/iOS apps because (1) many get abandoned due to competition of new on-board-diagnostics apps, and (2) they're not built by car companies, but mostly freelancers.
For instance, OBD-II related software for PC has been around since early 1990's. While OBD mobile apps came only recently.
What consumers don't know is, most popular smartphone OBD2 applications have stripped-down functionality. They tend to compensate with fancy GUI. For this very reason, we approve PC-only.
And having used and tested various car software for over 10 years — we present 7 worthy OBD2 diagnostic software packages…

Last judgement is on your intelligence. We advise to visit their website, get a sense of trustworthiness. And purchase one that suits your unique car needs.
Also for reasons of saving your reading-time, we've kept all reviews, in bullet points.
Rule of thumb: All OBD2 software basically performs the SAME. They diagnose and return vehicles faults to the user. Some diagnose more fault codes, some less. Quantity of errors detected is most prominent difference.
OBD-2 do-it-yourself diagnostics puts owner in equal position to mechanic. However malfunctions or broken parts should still be repaired and not just dismissed with a simple "Clear fault" button within the Windows/Mac software.
What all listed OBD Car Scanner Software Share in Common:
These are not free OBD software. For free OBD2 software (for ELM327 scan tool), download EasyOBD. It's the best "free" you'll find anywhere.
Automotive industry generally only targets Windows . There's luckily two decent OBD2 software for MAC  we found and reviewed them below.
All reviews are based on totality of our technical and car mechanical expertise with combined experience of 60 years. We attempted to examine, critique and judge them in a unbiased manner.
All software supports ELM327 OBD2 Bluetooth, WIFI and USB interface. You can find ELM327 install instructions here.
None of these software are bidirectional. For bidirectional, you'll need high-end OEM scan tool (which are usually in $1000+ range). Also you can search on our blog for "obd2 scanner" for other detailed reports of high-end workshop grade OBD2 scanners or code readers.
Brief intro guide about Scanners / Code readers / General diagnostic tools:
Automotive engineering has come a long way since Karl Benz developed the first petrol or gasoline power automobile in 1885. What started off a form of transportation to solely move people from point A to point B has not turn into a luxurious, fast option to transport people from A to B.
Before the technological boom, cars were plain and simple and easy to fix. However, as we have advanced in all aspects, cars now are equipped with the most technological items that one can think of, from air conditioner, to navigation, to even autopilot.
With the technological advancement, automobiles are becoming increasingly smarter. Today's cars can collect information navigating the best route available, to adjusting the fluids in the car to fit the driving condition, to lastly, detecting errors in the engine.
Most automobiles you on the road today all have an on-board diagnostics, or an OBD2 port which provides access to all the data from the engine control unit (ECU). With the data, a technician can determine the car's problems and see if maintenance is required.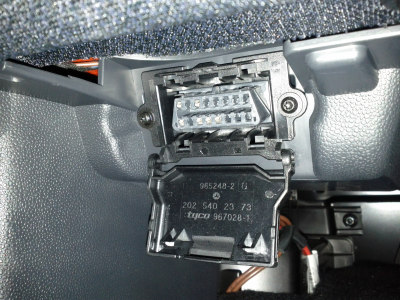 Step 1: Connect ELM327 to your car's OBD port.
Step 2: Install ELM327 drivers.
Step 3: Launch OBD2 software, and click "Connect". It's that easy!
To access the information from the ECU (Electronic-Control-Unit), one needs a computer and software to plug the port and gain access. Because of this trend, more and more automotive companies are now developing OBD software for laptop/mobile…. which can cater to the end-users and assist them in accessing the car's ECU data.
Usually, the product will come with two pieces of equipment, a device, car scanning hardware (cord) and car OBD-2 software (for accessing data via OBD port). The hardware/cord connects the ECU to the computer.
The (PC/laptop/Android/Max/iOS) OBD software then reads the data and analyze the data for the end-users. The main goal of this application is to assist with the maintenance of the vehicle as well as prolonging the life of the vehicle.
Below, we have gathered seven different types of car diagnostic software from seven different companies which we believe are the best software that you can purchase now for your Windows/Mac laptop/PC computer.
(Note: None of these links are affiliate links. Total Car Diagnostics is not interested in earning commissions on these recommendations. It's just a sincere write up on our recommended list of scanners we believe will help you fulfill your diagnostic reading or testing needs.)
TOAD PRO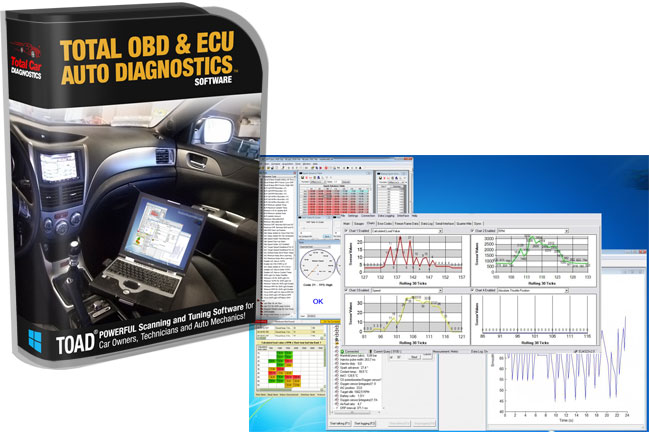 TOAD® contains advanced, comprehensive and powerful "car-manufacturer-approved" OBD software applications that'll perform a thorough health-check on your car and diagnose 15,000+ common problems. It can also "hack" car performance and optimize fuel consumption with included ECU remapping software (for geeks).
This is the same software that's usually reserved for registered and acclaimed car repair shops, manufacturers, serviceman and mechanics. TOAD makes them publicly available.
It's biggest strength, besides wide scope of car compatibility, is that software let's you to monitor live data with customizable visual graphs.
TOAD is suitable for home car owners who're willing to save hundreds of dollars by finding and fixing it themselves. Or for professional car mechanics/service shops that need the latest cutting-edge detection and analysis software that'll keep drivers safe on the road.
TOAD is used by law enforcement agencies, franchise car shops, serious car enthusiasts, regular car owners, and car manufacturing companies – in about 80 countries worldwide.
Benefits of TOAD PRO:
Check engine light detector: Will display a description of what the problem is so the owner can fix the car accordingly
Extract "Extra" OBD Fault Codes usually unfound by other scanners/software (Yes, we tested them all.)
Save Money On Car Repair because software will tell you about the broken component (Hence can buy it cheap on eBay or negotiate with the mechanics)
Software is also optimized for touch input (ideal on Surface PRO for eg).
Save Fuel Costs
Increase Engine Life Span
See What Your Car Is Doing In Realtime
Helps You Fix Your Car and Helps Keep Repair Costs Down!
Drive With Peace Of Mind Knowing Car Is In Good Condition
Display real-time data in a variety of formats including tabular and plotted in a graph
AutoEnginuity's ScanTool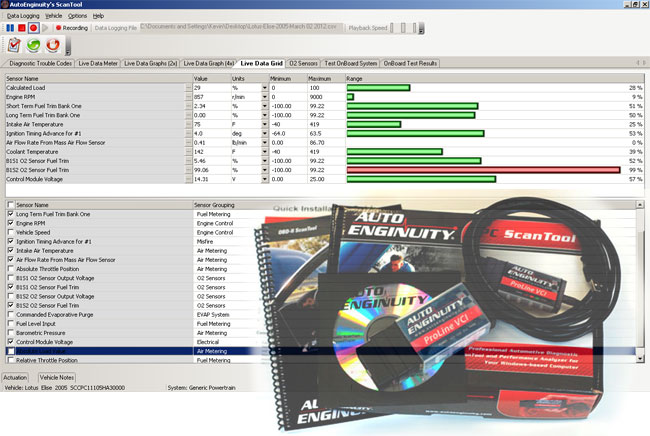 AutoEnginuity offers brand specific options, such as (BMW, Ford, GM, Chrysler, Nissan, Hyundai, Kia, Land Rover, Jaguar, Honda, Porsche) and much more! ScanTool is available for Windows and iOS systems.
The software allows users to quickly scan the vehicle's trouble shooting codes, vehicle sensors, and IM240 to decide what services are required. Another attribute which makes ScanTool stand out from the rest is the depth of the coverage.
The systems can access ABS, airbag, instrument cluster transmission, and many other controllers.
The depth consists of online data, bi-directional controls, adaptive resets and learns, and system test.
Only drawback is high price. It's clearly focused towards car mechanic workshops that scan hundreds of vehicles a month –  and who need OEM manufacturer bi-directional functions.
Benefits of AutoEnginuity Scan Tool:
Data: logged in XML for browsers, and CSV for spreadsheets
Customizable sensor data: Users can change how the data is displayed in regards to the sensor's sampling rate, ranges, units , and scaling value
Ease of use: Display data is concise and easy to understand form instead of raw data.
Learn more at AutoEnginuity website…
PCMScan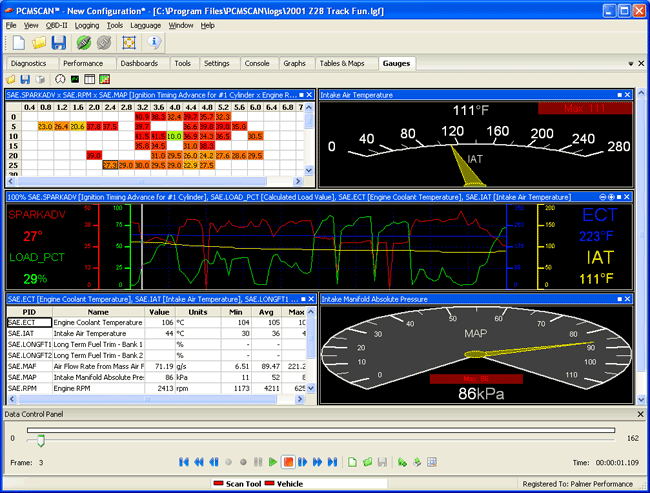 PCMScan is a fully featured generic OBD-II automotive diagnostic software that supports a wide variety of OBD hardware interfaces. It includes visual charting, logging, viewing and playback of recorded data in real time. It also allows viewing of vehicle Diagnostic Trouble Codes (DTC's), Freeze Frame data, and other vehicle information. This universal scanner software supports all US, Asian and European automobiles built after 1996.
However downside from this winning Windows OBD2 software is it hasn't been updated for over 7+ years. Meaning it's lacking at least 500+ new PID's (sensor data) since that time, which have been added in all other applications tested. Seems they either abandoned the software development – or just delegated effort elsewhere.
Benefits of PCMScan:
Customizable dashboard= User can change to personal preference
Dyno and Drag features
Data logging
Read stored and pending Diagnostic Trouble Codes.
Clear the Check Engine or Service Engine Soon indicator light.
Read and clear stored Freeze Frame data.
Supports thousands of vehicle trouble code definitions
Worthy Features Tested:
Full support for printing and print preview.
All of the different views, including the virtual dashboards, support printing/print preview.
For those who possess a knowledge of the OBD-II protocol, PCMSCAN provides an OBD-II Terminal where you can send custom commands to the vehicle.
For the power users out there, PCMSCAN has built-in Javascripting support to do custom calculations on OBD-II parameters and data.
Configurable alerts system – the alerts system allows you to configure the software to monitor any parameter(s) you like. When the specified conditions are met, the software will automatically play a sound (to warn you if you are driving) or insert a bookmark for you into the logged data that is being recorded.
English and Metric (SI) unit measurement systems supported.
Customizable log file data export to .CSV file for easy viewing in other programs like Excel.
Export with real-time stamps for easy correlation with external data logs.
PIDs can be assigned priorities to speed up the data capture rate.
Supports interfaces: Autotap AT1, AT2, AT3, AT123 (v2.x), VIA LDV100, LDV200, LDV300, LDV123, Multiplex Engineering T16, ELM320, ELM322, ELM323 (v2.x), ELM327 (all versions), Any SAE-J2534 compliant OBD-II interface.
Learn more at PCMScan website…
ProScan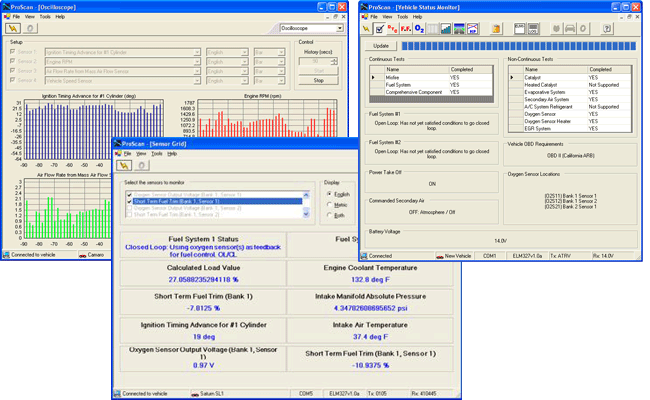 Total Car Diagnostics bought out ProScan in 2015. This OBD2 software is now improved for 2018 and beyond – including ability to read newest sensor data to accommodate ever increasing vehicle technology advancements/sensors – and it's part of TOAD LITE package.
ProScan is easily one of most user-friendly Windows OBD2 software on the market. It's also been around since 2003 – hence it's biggest strength is consistent stability and development based on thorough know-how of automotive protocols/sensors and PID's. It's compatible with any standard ELM327 hardware.
Best feature in ProScan that's somewhat lacking in others – is timing performance 0-60mph (100km). Or at least one of the most accurate implementations of this feature. Meaning you can conduct live accurate measurements of speed/torque gains after adjusting it's ECU parameters. Or simple for purpose of testing performance gains after modifying or adding aftermarket equipment.
Benefits of ProScan:
Fuel Economy: can adjust fuel economy depending on driver's habit
Vehicle Connection Manager: The interface when launching the program
Read and display freeze frame data: monitor data from any previous period of time
Oxygen Sensor Tests: Display all the tests which has been done on the oxygen sensors. Furthermore, it will show which individual sensor is malfunctioning
One button Diagnostic Report Generator: can generate report on the automobile easily
Show you the status of your vehicle's readiness monitors, indicating emissions conformance
Show the number and location of oxygen sensors on the vehicle
Test your vehicle's oxygen sensors to verify correct functionality
Record and play back data
Calculate and display instantaneous fuel efficiency (mpg/liters per km) information for any maf-based vehicle
Calculate and display the real-time cost of a trip based upon distance and average fuel efficiency
Calculate performance statistics such as 0-60 mph, 1/4 mile time and trap speed, 1/8 mile, etc.
Estimate horsepower and torque curves and generate dyno charts
Generate printable diagnostic reports for a given vehicle
Convert between English and metric units
Learn more at ProScan website…
OBD Auto Doctor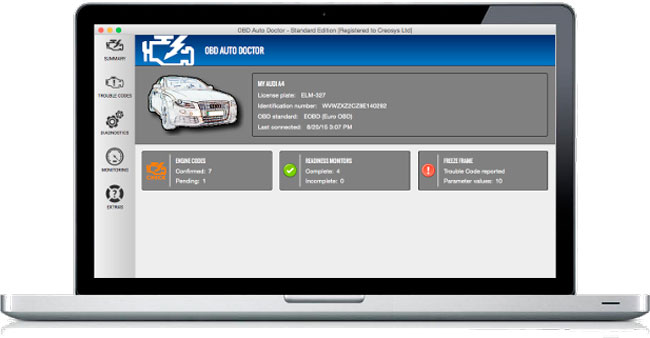 OBD II Auto Doctor is one of most sophisticated and clean OBD2 car diagnostic tools in the market today. We consider it the best OBD software for Mac OS X platform. Software let's users check and reset codes and communicate directly with the car's OBD2 system.
It may be "too advanced" for regular car owners. If you're looking for something simpler, yet preserving "repair-shop" reliability – then also test out Movi software below.
In overall their OBDII software is ultra resourceful in terms of amount of extracted data – and an ideal tool for serious car enthusiasts who wants to understand more about their beloved automobiles.
Benefits of OBD II Auto Doctor:
DTCs, Freeze frame, MIL
Fuel emission and fuel consumption
OBD2 real time indicators
Interchange between numerical and graphical view
Data can be sent via email
Can be utilized to read VIN, and calibration ID of ECU
Has a built in DTC database of over 14,000+ alarm codes
Learn more at OBD II Auto Doctor website…
Movi and Movi Pro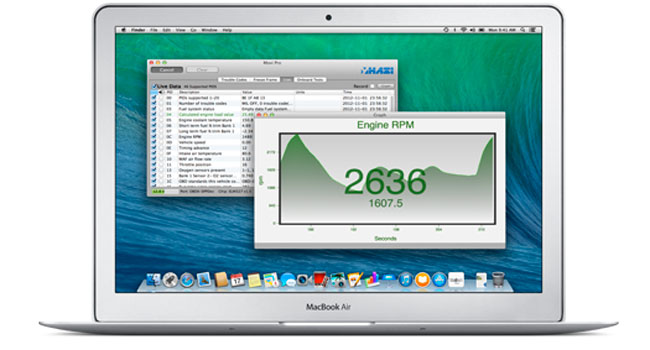 Movi/ Movi Pro has ability to read information from vehicle's engine control module (ECM) – without complicated setup on your Mac computer. So you're after simplicity while still needing absolute reliability on pulling car faults with precise-live PID parameter reports – then this is the ideal OBD app for you. We think it's easier to grasp and less overwhelming then above OBD II Auto Doctor.
Their free version is suffice for most regular car owners. However only paid version can clear the DTC faults codes.
Software can extract every historical failure (DTC) of a vehicle. It can also clear the 'check engine light' off as it extracts problematic trouble codes.
Benefits of Movi and Movi Pro:
Can view real time data to assist with engine failures
Read / clear DTCs
View / clear freeze frame data
View fuel consumption and fuel economy
Monitor virtual horsepower and torque
Make graph up to 4 engine indicators at the same time
EOBD Facile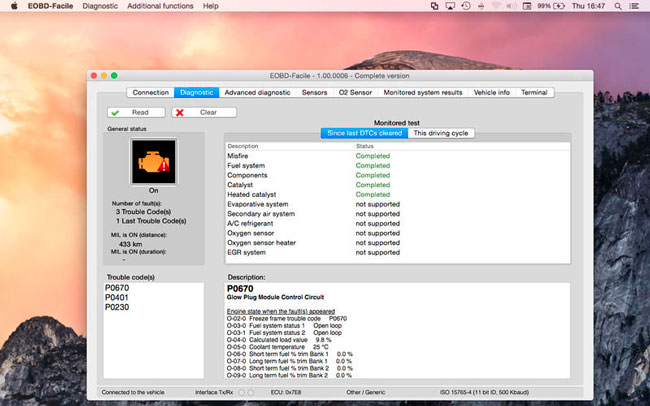 EOBD Facile OBD software is very simple and easy to setup and connect car-computer via ELM327 interface, on Mac computers. It's available in App store. We find this a tie with above Movi reviewed software. Just matter of which GUI interface is more pleasing for you.
Once the connection is established, user can diagnose and see the results in real time, see Vehicle info and view what car sensors are saying.
Benefits of EOBD Facile:
Clear check engine light
View issue with engine codes and what they mean
Monitor manufacturer error codes
Backlog of records of GPS data
Learn more at EOBD Facile website…
When looking for car diagnostic software, it is best to see what would be most suitable for you according to your needs. Some people may want to have more functions (like visual live monitoring of various data parameters in the engine), while others would just want to basics (as in health of engine and is car in decently safe condition to drive).
There we have it. The best OBD software as per our years of use of various car diagnostic tools.