Imagine driving down a scenic road, enjoying your time, and you see the 'check engine' flicker go on.
That would joy-kill moment. As the engine is a complex set of parts, performing any bolt-opening would worsen the situation if you are not experienced.
Here is where the scanner OBD II reader steps in. This remote control/ walkie like device helps you to figure out the origin of the error.
What is an OBD2 scanner?
OBD2 or the On-Board Diagnostics 2 is a regulatory system in automobiles and vehicles, mainly used for diagnosing the emerging point of the problem.
This software controls and keeps a check on all major functions of your car/ truck. It can transmit commands to the various systems to preserve car health.
Also, it can self-correct the anomalies that emerge from the ignition and fuel composition.
For a better understanding of the state of the car and its parts the technicians, mechanics, and owners use this scanning gadget.
Scanner OBD II can show information about the engine RPM, air temperature, throttle, coolant, and camshaft and crankshaft position.
Types of OBD-II Scanners
OBD 2 scanners can mainly be categorized into two broad parts:
Code readers
Code readers are the affordable, basic devices that understand and clear out the codes form any automobile.
These also have a few innate drawbacks as they fall short of data regarding the manufacturer-specific codes. Also, they provide less or no reach to other information.
Scan Tools
Scanner OBD II instruments are comparatively costly but provide a wider range of features than readers.
These can provide entry into the customizable and substantial access to current as well as stored data, manufacturer-specific codes, and upgraded troubleshooting data.
How Do OBD-II Scanners Work?
As the OBD2 systems are assimilated, scanners are reasonably easier in use. They all come with the same connector cable to plug them in with the port.
Scan tools operate by normally inserting the universal plugin the OBD-II diagnostic connector port in the car or vehicle.
Few more refined and upgraded tools also involve modules and keys that magnify the effect of universal connector for gaining access or interface with the OEM-centered data or controls.
Best OBD-II
Maxidas DS808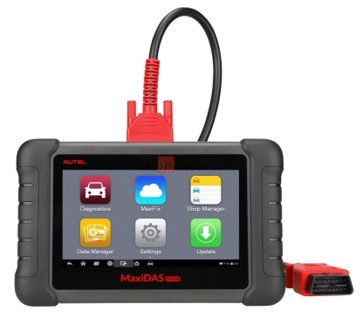 Maxidas DS808 is compatible with various automobile types and brands like Ford, Jaguar, Audi, Bentley, Bugatti, Volvo, Land Rover and Benz; and many more.
Additionally, the update process of this scanning instrument is very simple as well; it comes with free online service for a year.
You just have to get linked with Wi-Fi and you are ready to go.  It comes with a polyglot manual and a large screen display. LED makes it easier to see in low-light spaces.
The making of this device makes it easier to hold and carry; it comes packed in a carry-case.
PROS
Easy usage
Light and Compact
Strong Construction
Specialized features
Striking Functions
Multilingual Manual
Robust Battery
Wide Coverage for automobiles
Quick Functioning
Free Upgrades and Full Guarantee for a whole year
Great customer support
CONS
Compatibility problems
Very costly
MaxiScan MS 300 CAN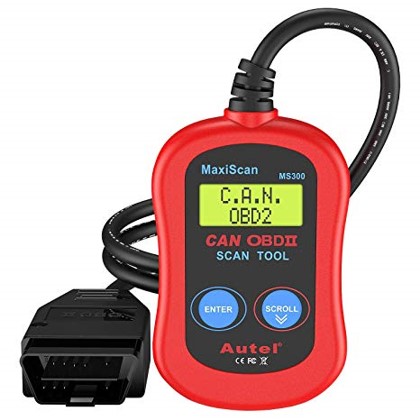 Autel MaxiScan MS300 has proven to be the ideal tool for people who like to know more about the diagnostic section of an automobile. A great scanner due to its ability to comply with almost all OBD II and CAN complaisant cars; most vehicles that are made after 1996.
A compact, light and affordable device when contrasted with few other similar ones. Usage is very simple; there are only two buttons on the scanner body. J
ust plugin and know where your vehicle is faulting. Easy and accurate reading of CEL lights with this scanner OBD II MaxiScan MS 300.
PROS
Simple usage
Secure
Higher rates of acquiescence
CONS
Complex updating and modification procedure
Low data storage and no display of live data
Launch Creader VII Plus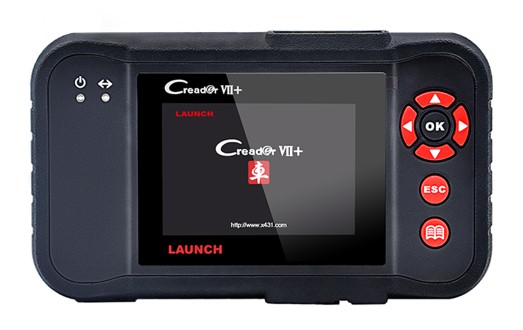 Launch Creader VII+ can be called an inexpensive device that makes it possible for the car owners to get to the roots of their automobile issue by themselves.
It has got many features and OBD II abilities like the exorbitant versions of the same have. Launch Creader is worth having device in all your cars and garages. With its compact design and elaborate scanning, it is the best professional tool to use.
These qualities make it apt for normal car owners, handymen, and mechanics. It gives simple wayfinding even if you have less knowledge about car hardware.
The only drawback could be the small size of the display, only 3.5 inches, this makes viewing the screen difficult.
PROS
Complete OBDII reportage
Precise diagnostic data for engine troubleshooting
Lifetime updates i.e. it's always upgraded
Remarkable price tag and features
Comprises of a TPMS reset instrument
CONS
Upgraded software does not work with iOS
Has no control on amending the throttle position or oil system
ScanTool 426101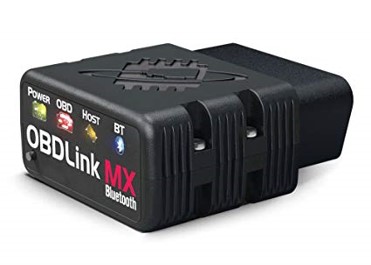 There is a large market of scanner OBD II products, but this one is the best at the best price. With various features like connection speed, over-voltage protection, and battery-saving; makes this particular device stand out.
The ScanTool 426101 comes with a 3-year warranty and a top-quality product, against its competitors.
This would be a great choice if you disregard to pay a little extra to get a great gadget for all your car problems.
PROS
Suited for all OBD2 automobiles
Easy to understand LED indicator
Secure and easy use
Works with more third-party apps on Android and Windows
Supports MS-CAN and SW-CAN
CONS
Does not work with a few car models; you will have to cross-check for yours
Does not function with iOS
High price
With screen display and button control, these OBD II scanners are great and worth owning devices for all types of people.
Imagine walking into the repair store and you have got no idea about what has happened to your car.
It might just be coolant loss, dirty oil or blocked radiator; but you will have to drive your car up to the mechanic and get it fixed.
This device is very supportive in such situations and can help you conserve your resources by providing self-repair options and controls.
Considering their inexpensiveness, the OBD II scanners get rid of various small problems in less time. The best part about these devices is that they can predict future problems that might arise if not checked.
All you need would be basic knowledge of the car system and the error codes that are generated.