There are many advantages to cleaning a car's interior than just keeping it neat and tidy for aesthetic reasons. A clean car interior also provides safety. Motorists have been severely maimed or killed by the debris in the car that suddenly turned into lethal projectiles during a car crash.
Another advantage detailing your car's interior provides is the increase in resale value. Even if your car's engine has been properly maintained and the exterior is in mint condition, if the inside carpet and seats are trashed or there's a bad odor radiating from it, the car's value will decrease.
Detailing the interior of your car should be performed as often as 3-4 times a year, or every time you wax your car.
Do-it-yourself Interior car detailing
Just like with washing and waxing your car, you're going to want to start at the top and work your way down. Begin cleaning the headliner first, and vacuum the carpet last.
Tools you will need
Vacuum cleaner with attachments
Scrub brush
Soft clean rags
Water hose with spray nozzle
Baking soda
Electrical extension cord if needed
Long cotton swabs
Bucket with warm soapy water
Plastic putty knife
Chamois cloth
Carpet cleaner
Cleaning the headliner

A headliner is the material and insulation that covers the interior of the roof. Most likely you car will have a cloth headliner, but if your car is old it may have vinyl.
The biggest issue with cloth headliner is that moisture, pollution, and cigarette smoke can deteriorate the adhesive, causing the fabric to loosen, creating air bubbles, sagging, and embarrassment to anyone who has to be seen riding in the car.
If you headliner is damaged and sagging, you need to fix it as soon as possible. Even if it's only a temporary fix, it's important because it can obstruct your view while driving.
You can't really repair a cloth headliner. There are some temporary solutions that may work. For example using the best headliner adhesive, or do a little nip and tuck with a few hatpins or thumbtacks. The only permanent way to fix a sagging headliner is to take it to an upholstery shop to have it replaced, which can cost hundreds of dollars.
To clean a cloth or vinyl headliner, just wipe it with a damp rag with mild soapy water. Be careful not to get the headliner too wet, because the water may seep through and destroy the adhesive.
Cleaning the dashboard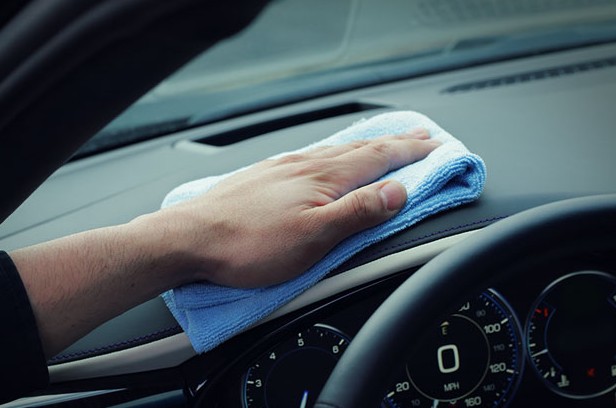 Cleaning a dashboard involves two main steps – you need to remove the dust first and then apply a protective cleaner.
You can use a dashboard wipe which can be bought in any auto parts store to remove the dust. Use a long cotton swab to reach any nooks and crannies.
Instrument Panel and Air Vents
Clean this area with a rag and warm soapy water. Use the rag or a long cotton swab to clean the air vents.
Rear Shelf (Deck)
Some people use this shelf to display their collection bobble heads, we recommend that you don't keep anything these because in case of a crash or sudden stop, those objects can become lethal projectiles.
To clean this area, use the brush attachment on your car vacuum and remove all the dirt and dust. Next, clean the rear window using a paper towel and window cleaner. While you're at it, clean the rest of the interior windows.
Cleaning Car Seats
Car owners may change their opinions on their favorite car color, make, and model, but they are usually faithful to their preference for leather, vinyl, or cloth seats. No matter the material your car seats are made of, there are specific steps you can take to help the material last longer.
The driver's seat takes the most wear and tear, so this is the seat that will likely be the one to get damaged first. If a seat gets damaged, you need to take action immediately, and otherwise the tear or hole will quickly grow larger because of the person's weight pressing against it. If the driver's seat is too damaged, or you want to prevent it from wearing out prematurely, you may want to purchase car seat covers.
To clean the seats use the brush and wand attachment on your car vacuum to remove debris from the top, in between, back, and bottom of the seat.
Leather
Leather seats can wrinkle and crack over time, which is why taking proper care of them is vital. To clean leather car seats, use a chamois cloth or a soft rag with a mild soap (not antibacterial) or saddle soap and wipe it dry.
Do not use a hair dryer to dry it; instead, let it dry naturally. If the stain persists, use a leather cleaner recommended by the dealership or the manufacturer. If you have a tear in the leather, have it professionally repaired as soon as possible.
Vinyl
Vinyl seats are probably the easiest to clean out of the three materials. Simply use warm water and a soft rag to wipe down the seats. If there's something stuck on it, use a plastic utensil such as a spatula to scrape it off. Then use the warm soapy rag to wipe down any remaining residue. For really stubborn stains and a thorough clean, use a vinyl cleaner.
If the vinyl is torn, have it professionally repaired as soon as possible.
Cloth
Ask any car owner who's had a drink spill over their cloth car seats and they'll let you know how annoying it can be. Not only does the liquid seep into the cushion leaving a stain, but you also have to deal with the lingering odor. If ever you spill something onto a cloth seat, your should press some paper towels on the spot immediately to soak up as much of the liquid as possible. It will take some time for the seat to dry, so use a bath towel to cover it if someone needs to sit on it.
If you already have an existing stain on your cloth seat, you can try using a carpet and upholstery cleaner. This is especially the case if you are cleaning an oil or grease stain.
Floor Mats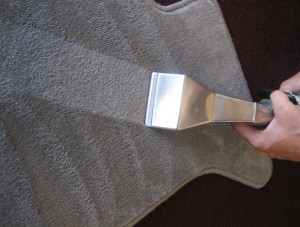 Floors mats are usually supplied with cars and are designed to protect the vehicle's carpeting from wear and tear. Once the carpeting is trashed, the entire car looks trashed, and replacing the carpeting is costly; therefore, if you see a stain, remove it immediately.
To prevent stains in the first place, purchase hard rubber mats (with deep grooves) for the entire vehicle, including the truck or rear cargo area. These will hold any fluids that spill, which would otherwise soak into the carpeting.
Carpet Mats
When cleaning carpet mats, remove them from the car and place them on the sidewalk or driveway. Use your car vacuum cleaner to remove any dirt from the mats, and if there are stains, use a carpet shampoo and blot dry with towels; if they're too wet, use a wet/dry vacuum. Let the mats air-dry before placing them back inside the car.
Rubber/Plastic Mats
To clean rubber or plastic mats, remove them from the car and, using the spray nozzle on the water hose, spray off any dirt. Then take a brush that's been soaking inside a bucket with warm soapy water and scrub the remaining dirt and stains. Rinse using the spray nozzle. Repeat on all the mats. Let them air-dry before replacing inside the car.
Be sure to replace any rubber/plastic mats that are cracked or any carpet mats that are frayed because your foot can get tangled in them. Causing interference when using the brake or accelerator pedals.
Cleaning the carpet
Remove dirt from the carpet with a vacuum cleaner and spills and stains with a carpet cleaner. Just be careful not to soak the carpets because too much moisture will create mold and mildew. I prefer to use the BlueMagic 900 Carpet Stain & Spot Lifter when cleaning the carpet of my car.
Odors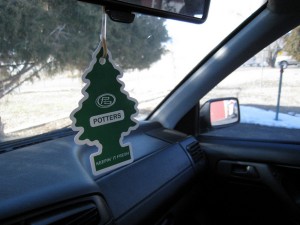 You open the car door and all of a sudden you know where you left the other gallon of milk … three days ago. Your car may reek for a week, but there are some odors that make themselves permanent passengers. Here's how to deodorize the demons..
Sprinkling household baking soda on the carpet or cloth seat where the odor is emanating. Let the baking soda sit for a while and then vacuum it up. If the odor persists, try using cat litter. If that doesn't work, you'll need to take it to a professional detailing service.
Follow the above steps on how to detail a car's interior and you'll have the inside of your car looking as good as new!