The era where OBD scanners were required to be connected to the OBD ports of the vehicles is definitely almost forgotten. Wireless OBD 2 Scanners are in, and for good reason.
More and More car owners today are interested in knowing more and more about the vehicles they are operating.
In the world of information hunting vehicle owners, an OBD scan device is a must. Well certainly, the safety and functioning of any vehicle is a matter of concern for the one who operates it.
In this direction, equipping your vehicle with the right OBD (On-Board Diagnostics) code reader or scan tool is one crucial thing to do.
Many a time, knowing what part of a vehicle's system is mal-functioning is not just crucial for mechanical people, but for the car owners as well. OBD2 scanners give you exactly that.
Best inexpensive OBD2 Scanners
If you are here, in all probabilities, you are searching for a decent and budget-friendly OBD2 Scanner- yeah, you're at the right place.
Here, I have compiled a detailed review of the top 10 OBDII Scanners you can get hold of, without breaking a bank.
The list comprises of stand-alone scan tools as well as adapters for Android, Windows and iOS that are priced roughly under $100.
Too busy to go through the entire page? We'll let me list down the best choices here- straight and simple.
BAFX Products: Check Price at Amazon.com / Read Review
VEEPEAK Bluetooth 4.0: Check Price at Amazon.com / Read Review
Autel Al319: Check Price at Amazon.com / Read Review
Here's a short chart of all the products mentioned here:
Cheap OBD2 Scanner: The 10 Best Choices Under $100
| | | | |
| --- | --- | --- | --- |
|   | Title | Rating | Action |
| | BAFX Products Bluetooth Diagnostic OBDII Reader | (4.4 / 5) | See More |
| | Veepeak OBDCheck BLE Bluetooth 4.0 OBD2 Scanner | (4.2 / 5) | See More |
| | Autel AutoLink AL319 OBD2 Scanner | (4.5 / 5) | See More |
| | KOBRA Wireless OBD2 Car Code Reader Scan Tool OBD Scanner | (3.8 / 5) | See More |
| | BlueDriver Bluetooth Professional OBDII Scan Tool for iPhone, iPad & Android | (4.4 / 5) | See More |
| | OBDLink MX Bluetooth: Professional OBD-II Scan Tool | (4.2 / 5) | See More |
| | ANCEL AD410 Enhanced OBD II Vehicle Code Reader Automotive OBD2 Scanner | (4.3 / 5) | See More |
| | FOXWELL NT301 Car Obd2 Code Scanner | (4.3 / 5) | See More |
| | JDiag JD101 Universal Code Readers Engine Scan Tool | (4.7 / 5) | See More |
| | Carista OBD2 Bluetooth Adapter, Scanner and App for iOS and Android | (4.1 / 5) | See More |
Looking for the Best Cheap OBD2 Scanner / Code Reader?
Then you are on the right page.
In this article, I'm going to review the  10 Best Cheap OBD2 Scanners in 2018 that are either stand-alone scan tools or adapters for iOS, Android, and Windows devices.
Their prices range between $30 and $100. They make very good choices if you are shopping on a budget.
Don't have enough time to read the whole article?
Don't worry!! I've picked out the best choices for you right below:
Should you want to get an OBD2 scanner with more functions than read and Clear the Check Engine Light, see if TOAD-Pro can help you.
Love to read more? Just scroll down!!
But first, Let's have a look at the comparison table of the Best Cheap OBD2 Scanner 2021+.
Feel free to use it as your reference for choosing a cheap OBD2 scanner.
1. BAFX Products Bluetooth Cheap OBD2 Scanner for Android Devices
Rating: 4.5/5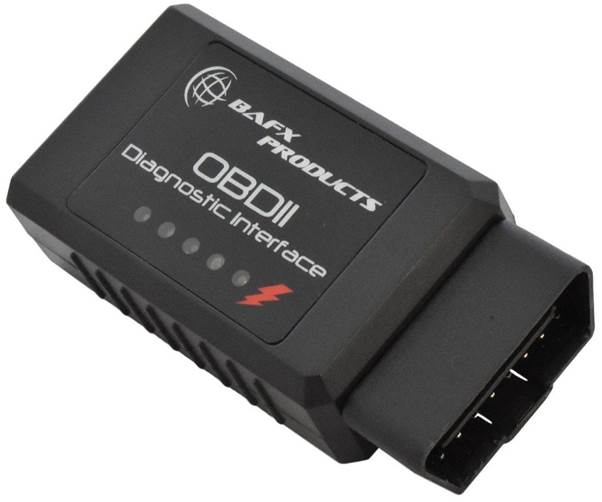 BAFX Bluetooth OBD2 Diagnostic scanner comes well packed with a detailed user guide, the adapter and a compact disc. Additionally, it is, well, backed by a two-year warranty.
It works with OBD2 software ilke TOAD.
The user manual details the simple and straightforward way of setting up and using this wireless scanner. Also, in case you would like to use it with a PC, the user manual consists of the links to demo programmes available for PCs.
You need a third party diagnostic app on your phone or tablet for getting the vehicle information.
Talking about BAFX, some of the great features encompassed by this OBD scan device is its ability to clear the Diagnostic Trouble Codes (DTCs) displays in addition to its function of diagnosing them.
Basically, you will be able to get into some of the performance parameters and also will be able to check monitors with this scanner; it diagnoses PIDs from various sensors.
The scanner is pretty great with its advanced functions.
To some extent, this feature makes it a near-professional tool, despite of being an affordable OBD2 code reader.
Given how much its functionality meets the requirements of an average DIY enthusiast or a car owner, think of it as a steal at this price!
Compatibility
BAFX is not only Android compatible but can function with a window device as well. More specifically, it works with roughly most of the Android or window devices.
Talking of device's compatibility with various vehicle models, it claims to connect with all the post-1996 vehicle models (models with OBD2 specification).
While several of the cheap OBD2 Scanners claim to be compatible with all vehicle makes and models, rarely any of them use to be actually true to their functioning claims.
BAFX OBD2 Code reader is practically true to its claims of being compatible for all the OBD2 vehicle models (all models post 1996).
However, some data may differ, given that it is dependent on the OBD 2 sensors available with the vehicles.
What I Liked
Now, though it is an affordable OBD Scanner, it precisely serves its purpose.
We tried and tested it with most of the top vehicle brands, with which, the OBD 2 code reader worked just well. It is, actually compatible with all the OBD2 compliant vehicle makes and models.
What I Didn't Like
A notable setback when it comes to BAFX Bluetooth OBD2 Diagnostic scanner is that it not iOS compatible.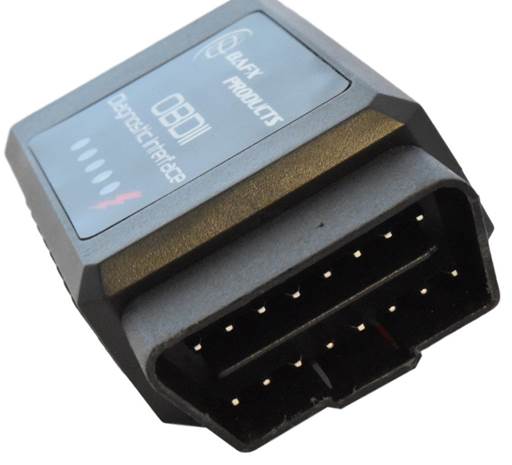 Continuous Monitoring
In order to fetch real-time data, you can let the scanner be left plugged in always. It, being an adapter, you shouldn't have a problem with this.
What I liked
When left plugged in, the scanner points out any change or error as soon as it detects any monitor changes, thus offering real-time diagnostic data. The feature is helpful to vehicle owners and car mechanics alike.
What I didn't like
The flip side of leaving the scanner plugged in is battery drainage. When I tried it out with my vehicle, it took a mere 2 days to drown my car's battery just about completely.
However, this won't be an issue while driving. The battery drainage is a problem only when the car is left parked. Therefore it is recommended to leave the scanner plugged if you are planning to leave your car parked for a while.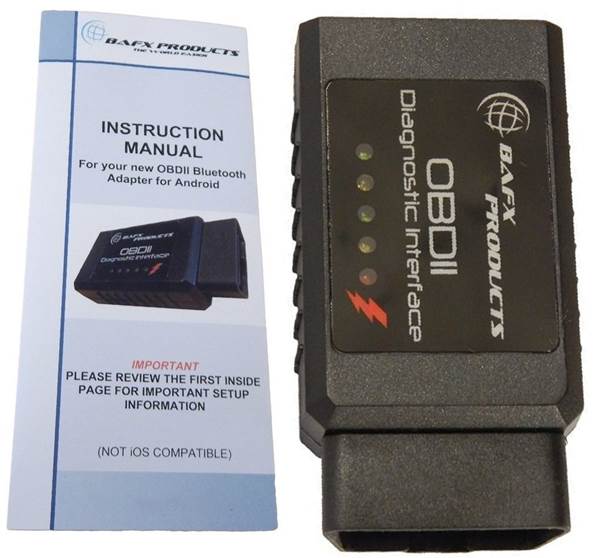 Connectivity
You can simply connect the BAFX Bluetooth OBD2 Diagnostic scanner to an Android or window device to make it a real scanner. If not for it, the device is basically an adapter. You can connect the OBD2 code reader to your device via Bluetooth.
Connecting the device is a breeze and the instructions are clear in the manual. You can use the application for fetching and saving data as soon as you connect the device to the scanner.
What I liked
The BAFX OBD2 scanner works just fine with roughly all the 3rd party diagnostic apps you might need for fetching the information.
Torque Pro is one of the diagnostic apps I recommend, given its versatility and functioning. Its functionality is worth far more than the price, which is less than $5, for the application.
Other good apps you can check out for diagnostic purposes include OBD Car Doctor, HobDrive, DashCommand etc.
Another plus point to mention is that the scanner uses Bluetooth (and not Wi-Fi) for establishing the connection. You thus have Wi-Fi left alone for other networking purposes.
What I didn't like
The scanner does not connect with any of the Apple devices, which sure is a big disappointment for the apple users.
Codes
This scanner can also reset the check engine light by clearing the engine error codes in addition to being able to do OBD2 scan finely.
What I liked
The BAFX OBD2 scanner can not only read the codes efficiently but can also clear the data and emissions in Moreover, the scanner being able to read the engine-specific as well as generic codes is a positive factor. Also, some manufacturer related error codes can be diagnosed by the device
What I didn't like
This OBD II code reader can only deal with engine codes and any other aspects, including ABS diagnostics or such, will be left out.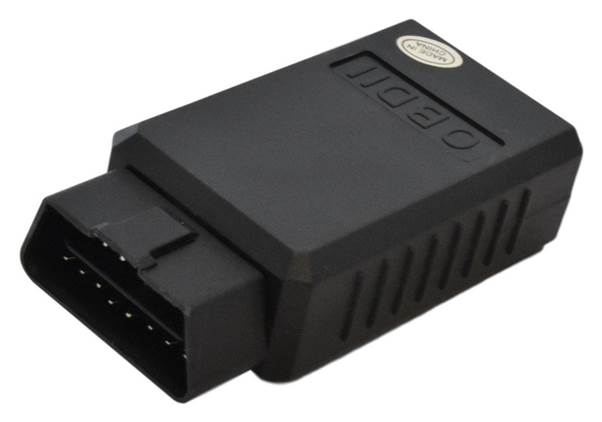 Talking the advantages and disadvantages
Pros
Comparatively great advanced functions and diagnostics
Suitable for car owners for generic and advanced code reading
2-year warranty accompanied
Easy to set up and understand the functioning
Can reset diagnostic error codes in addition to being able to read it
A real good OBD 2 scanner at such low rate
Easy Bluetooth connection
Cons
Can support and deal with only engine specific codes codes
Inability to work or connect with iOS devices is a big setback
Not really professional, and cannot content professional users
Who is it for?
Well, we wouldn't really recommend this scanner to the professional technicians looking for high-end diagnostic solutions. However, at the rate at which it is available, it is certainly recommended for any car owner willing to get a low-priced yet good quality OBD2 code reader.
2. VEEPEAK OBDCheck BLE Bluetooth 4.0 Best Budget OBD2 Scanner for iOS & Android
Rating: 4.2/5
The next cheap and best OBD2 scanner making it to our list of top economic OBD2 scan tools and code-readers is from Veepeak.
Like BAFX, the Veepeak OBD-Check BLE Bluetooth 4.0 too comes with the ability to not only read or diagnose the trouble codes, but also to clear them.
In other words, with Veepeak OBD 2 scan tool, thus reset the check engine light. The scanner goes along with all the 5 OBD2 protocols: J1850 VPW, CAN, ISO9141-2, KWP2000 and J1850 PWM
Veepeak is, however, a step ahead in a dimension or two; let's take a closer look at VEEPEAK OBDCheck BLE Bluetooth 4.0 OBD code reader.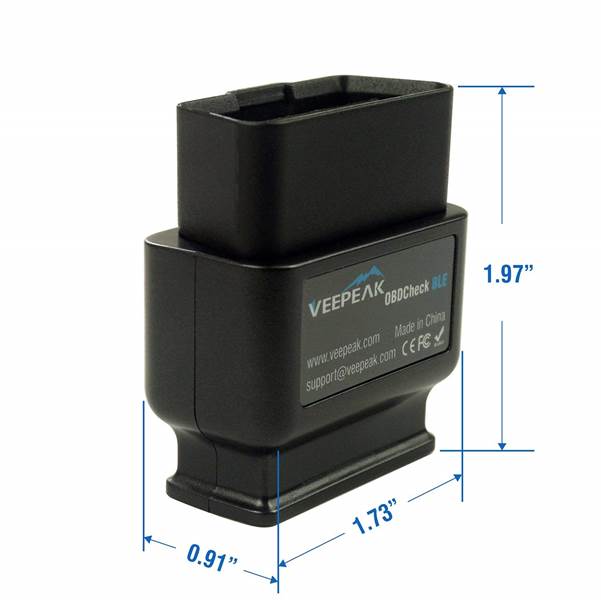 Compatibility
In most cases- including this- OBD2 scanners are mere adapters until connected to a mobile phone or tablet or PC for diagnostic purposes. The Veepeak OBD-Check BLE Bluetooth 4.0 OBD2 scanner is compatible with and supports Android, Windows as well as iOS devices.
In comparison to BAFX OBD II scanner, Veepeak has an edge given that it is compatible with iOS as well, and not merely Android phones.
The scanner is moreover amazingly compatible with window PCs as well, given they can easily be accessed by Bluetooth.
Getting to vehicle compatibility, Veepeak OBD-Check BLE Bluetooth 4.0 OBD2 scanner is excellently compatible with just every vehicle make and model that are OBD2 Compliant and almost every car and light trucks manufactured post-1996 are OBD II compliant. We have practically tested the scanner with most top brands including BMW, Ford and Toyota.
Moving further on compatibility checklist, time to consider the application compatibility.
We checked the Veepeak OBD 2 Scanner with several popular diagnostic applications including Torque Pro, OBD Fusion, Carista, DashCommand, and OBD Car Doctor and scanner is compatible with every application.
Also Windows based TOAD-Pro will work.
Moreover, you can go by the user guide that comes along for looking at the best application alternatives available to you.
What I Liked
The fact that Veepeak OBD2 Scan tool is compatible with roughly every vehicle, every on-board diagnostics application and Android, iOS and Window devices is something that pulls attraction. This is something that makes the scanners somewhat way convenient.
What I didn't like
One set back with Veepeak here is that you would require a third party application to work out the diagnostics. Some of you may find it somewhat inconvenient. Moreover, most of the reliable diagnostic applications come for a price.
The price may range anywhere between $2-$40. And well, you'll be getting what you pay for; greater featured and diagnostic options available with the costlier apps.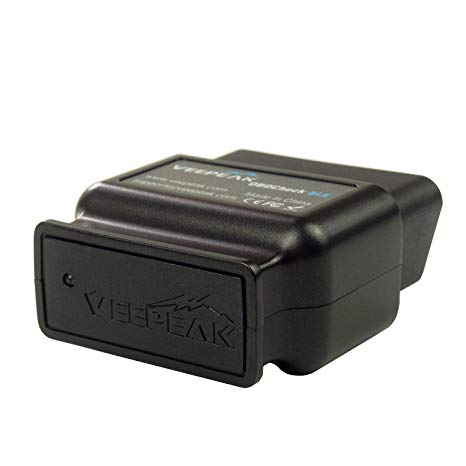 Connection
Easy connectivity is one great thing about Veepeak OBD scanner- whether in the dimension of applications, or vehicle or devices.
The OBD 2 scanner can connect easily with roughly every third-party diagnostic device. Similarly, detecting and connecting with your Android or iOS or Windows phone or PC or Tablet through Bluetooth is a very quick process.
Veepeak scanner easily plugs into the OBD2 scan port of a car which will be a followed by a blue light that would indicate the connection.
While your phone is Bluetooth- connected to the Veepeak OBD2 scanner, you need not to distinctly connect the app to the scanner.
It will automatically get synchronized with the app. However, in the case of Apple device, you may want to open the app and manually follow the set-up instructions for the OBD2 scanner.
In this context, you may want to know that if you notice that the OBD 2 scanner is frequently losing connection with the application you have, you might want to either upgrade the software or you should try using another application.
What I liked
I like how easy it is to connect this OBD2 scanner to the applications and phones or tablets.
Moreover, unlike several other cheap OBD 2 code readers that uses Wi-Fi for connecting, Veepeak Code reader utilize Bluetooth, leaving Wi-fi for internet utility purposes. In addition, the scanner's Bluetooth signals are appreciably strong.
What I didn't like
While it seems to work well, you cannot automatically connect and synchronize with iOS devices. This can be a little buggy for many a people to have to connect it through settings to prevent it from losing connection again and again.
You can check out more about Veepeak OBD 2 Scan device here:
Diagnostics and Monitoring
Designed specifically for continuous monitoring, Veepeak is a good companion when you want to keep track of your vehicles data including its speed, rpm, the temperature of engine etc. The OBD 2 code reader is designed to have easy access to the electronic system of the computer.
With it, your device will be able to read as well as reset the codes. Anyway, the data you get may somewhat be influenced by factors such as the application you are using for the diagnostics.
You can even leave the scanner plugged in for constant and real-time monitoring, especially in the course of any long distance driving.
What I liked
You can access and reset the error codes right from your phone; it is a basic thing that you, as a car owner, might need. Continuous and efficient monitoring is also something appreciable.
Something that gives the product an edge is the fact that the Veepeak OBD 2 scanner draws battery relatively slower, even when the vehicle is left parked.
What I didn't like
The fact, that the scanner does draw some amount of battery when on a stand-still, might be of concern to many people. Moreover, it is advisable to not leave the scanner plugged into the vehicle if you are planning to not use it for more than 2 days.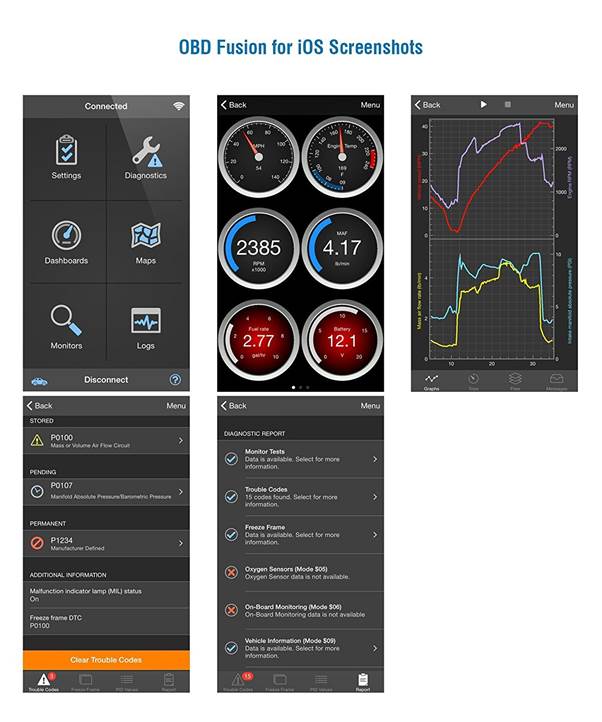 Talking the advantages and disadvantages
Pros:
Strong Bluetooth based connectivity with tablets or mobile phones. It doesn't use Wi-fi
Easy compatibility with third party apps
Fits-in with all the OBD2 compliant vehicles
Compatible with Windows, Android as well as iOS devices
Works well for continuous monitoring
Cons:
Supports just the engine-specific data
The company may not be having the best customer service you can get
Who is it for?
We recommend Veepeak OBD 2 scanner for all the beginner or intermediate DIY enthusiast as well as for the regular use of car owners. Moreover, given that the product is iOS device compatible, it is a good go for apple users as well.
3. Autel AutoLink AL319: Cheap OBD2 Scanner for Engine Fault
Rating: 4.5/5
Autel AutoLink AL319 comes with a rugged look, something you will love in most certainties.
Talking about the factor that makes Autel Autolink OBD2 scanner different from the herd of scanner available out there is its LED screen, making it easy to use the scanner during day-time as well as night. Also, it comes with a pretty audible speaker and a patented One-Click I/M Readiness Key.
The scanner basically offers visual as well as audible readiness indication for readiness verification.
It also performs the basic functions of reading and clearing codes and resetting the check engine light. Let's know a bit more about the Autel OBD II scanner.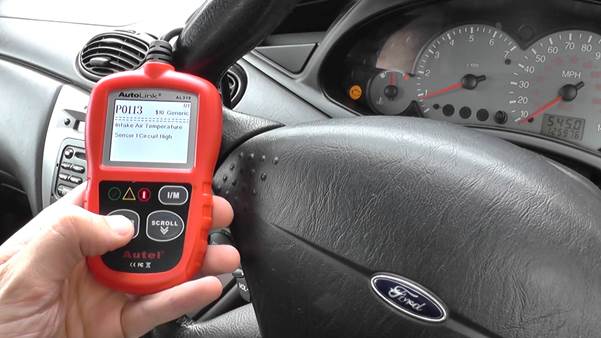 Compatibility and functioning
Autel AutoLink AL319 OBD scan tool effectively fits in for roughly every vehicle that is OBD2 compliant. The scanner is pretty easy to use for even the beginners.
With the Autel OBD II scanner, it is much easier to diagnose and understand the cause of a malfunction indication.
What I liked
It is really easy to understand and functions well with most of the OBD2 compliant vehicles- both imported and local. It would be a great add-on to an SUV or a light truck.
What I didn't like
Something that might be of concern is that Autel AutoLink AL319 OBD 2 scanner doesn't actually cover every OBD2 vehicle when tested practically.
1999 Lancer, 2016 Jeep Compass and 2005 Escalade are some of the vehicles that Autel AutoLink AL319 OBD 2 scanner cannot read despite that they are OBD2 compliant.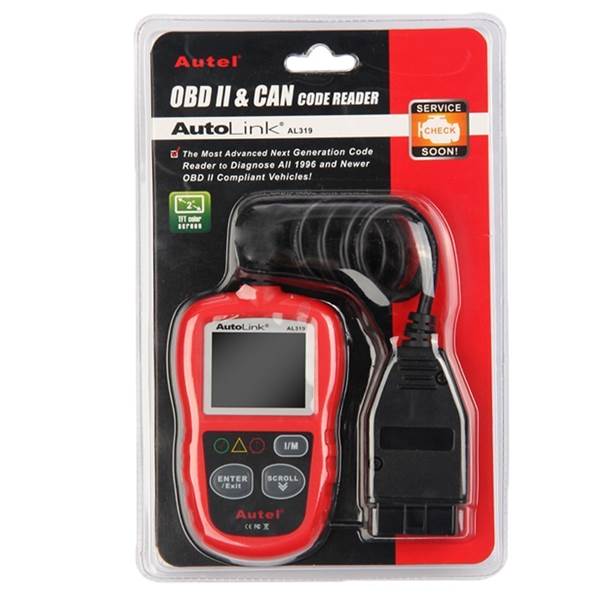 Set up
Before you dive into using the Autel AutoLink AL319 OBD 2 scanner, you need to go through a simple software upgrading process. You just need to connect the scanner with a computer through a USB cable and follow the upgrade process as suggested in the installation guide that you receive along.
It isn't any complicated, you merely need to download an update form the company's website.
These updates offer a means to improve the functionalities.
What I Liked:
Updates that can be downloaded is an attractive option available with this particular OBD 2 code reader. Moreover, the whole upgrading process is real simpler for even beginners to handle.
What I didn't like:
The scanner wouldn't be able to function efficiently if it is not fully upgraded. This can be set back, given that not everyone may remember to keep the scanner up to date all the times. In some cases, there have also been problems reported in working with Windows 10 systems.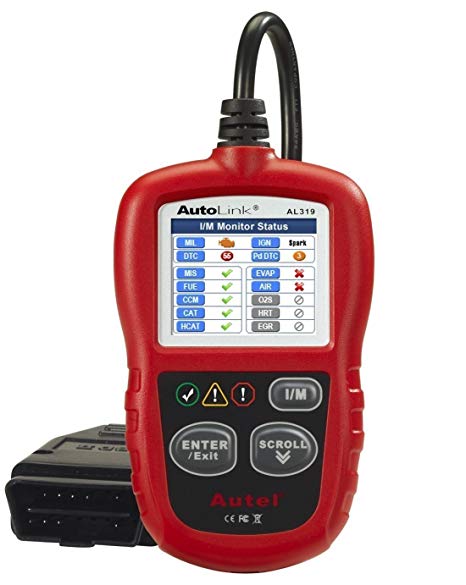 Codes
This scanner works pretty well in the context of reading and clearing any trouble codes and emissions.
What I liked
A really appreciable factor about the code reading tendency of Autel AutoLink AL319 OBD 2 scanner is that it does this real quick. At the rate that it comes, the functionality it offers is pretty amazing.
What I didn't like
A setback with this OBD scanner is that its directory doesn't contain manufacturer specific codes. The scanner can read only engine specific codes.
Know a little more about Autel AutoLink AL319 OBD 2 scanner here:
Colour coding and functionality
The Autel AutoLink AL319 OBD 2 scanner comes with LED lights that would highlight the seriousness of any malfunctioning. The red light indicates some main issues detected, yellow would indicate a potential issue. Green indicates no errors or fault codes.
I/M Readiness Key is yet another great idea integrated with the tool.
What I liked:
The visualised indication of errors is a good feature. The scanner stands out from the crowd for this. Similarly, the patented One-Click I/M Readiness Key is yet another major attraction. Having a key dedicated for emissions makes it real easy to do readiness scans  or emission checks.
What I disliked:
Even though you might get an indication of a present or potential problem or error with the colour coding, you would still need to analyse the issue to know about it.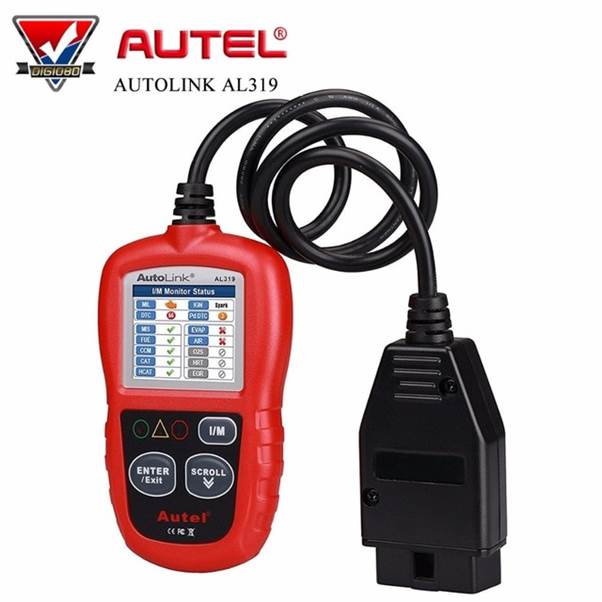 Talking the advantages and disadvantages
Pros:
Quite pocket-friendly OBD II scan tool
Speedy error code reading ability and easy to understand
The Multilingual menu that supports many major languages including French, English, German etc.
Value for money
Easy to handle and very portable
Comes with a key dedicated to checking emissions
Colour code indications for easier understanding
External application aid is not really necessary for diagnostic purposes
Cons:
Might not be suitable for professionals looking for advanced functioning and data.
Some languages aren't translated well for the user interface.
Doesn't read codes in some vehicles even though they are OBD 2 compliant.
Who is it for?
This OBD 2 scanner is suitable for most vehicle owners who are willing to have a basic diagnostic device that can help them know the basics.
4. KOBRA Products: Wireless Cheap OBD2 Code Reader / Adapter
Rating: 3.8/5
One of the Cheapest OBD 2scanners available out in the market, Kobra wireless OBD2 code reader/ adapter is one reliable product. The OBD2 scanner offers real value for every penny you'd spend on it.
As the company claims, the currently available version is an upgraded one, which boasts to have eliminated whatever shortcomings that the previous version had.
The product moreover comes with a one-year money back guarantee. So in case you aren't really satisfied with the product, you won't really have to worry about your money going waste.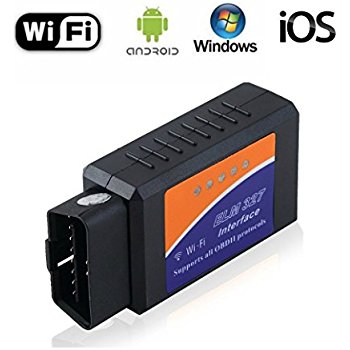 Compatibility and connectivity
The Kobra wireless OBD2 code reader is compatible with most of the third-party applications that you might consider for diagnostic purposes. The Kobra OBD2 scanner connects via Wi-Fi to its purposed device.
This cheap OBD II code reader can easily be connected with Android, iOS as well as Window devices. Simply pair the devices and you are all set to diagnose any problems in your vehicle without any professional aid.
Talking about compatibility with vehicles, Kobra OBD2 scanner is a winner here. The adapter fits along with roughly every make and model that is OBD2 compliant.
Moving further to its connectivity potential, connecting this adapter with any device or application is all easy-breezy task. Moreover, given that this is an upgraded version, its Wi-fi network is way stronger than ever before.
What I like:
Considering the wide range of applications and vehicle it covers, Kobra OBD2 scanner gets full marks when it comes to compatibility. Similarly, it is very easy to connect and comes with a stronger signal. Moreover, it connects to iOS and not only Android or Windows based TOAD software.
What I didn't like:
A set back here is that Kobra OBD2 scanner comes as an adapter and you would require a third party application to utilize the adapter as an OBD2 scanner or code diagnosis.
It might be bothering to some that this OBD code reader doesn't come with its own diagnostic application. Most of the good third party apps might need you to pay some bucks.
However, it is not a big deal, since there are several third-party apps out there that might cost just around $2-20, which is a reasonable range.
Talking about connectivity, the problem here is you cannot have internet access given that you will be required to connect via Wi-Fi and not Bluetooth.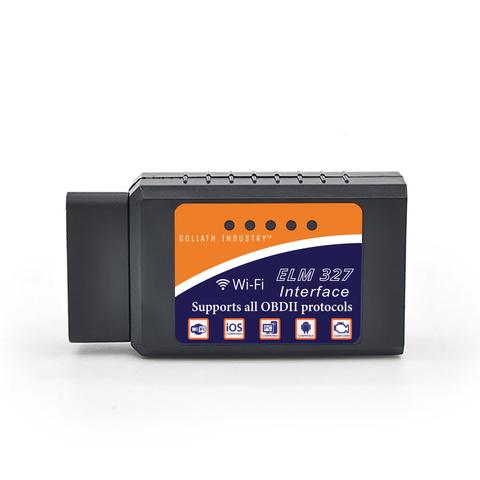 Codes
Kobra wireless OBD2 code reader, you can read over and around 3000 code definition- that is a big lot. With this tool, you can pretty much save much of the time and money you would need to otherwise diagnose a malfunction in your vehicle.
What help this product stand out of the crowd is its ability to read the manufacturer specific codes as well- yeah the database is really vast.
What I liked:
I really liked the wide code definition database available with Kobra OBD2 scanner. Moreover, you can easily diagnose and clear error codes and reset the check engine lights. The tool comes best where you need to perform the basic code reading tasks.
What I didn't like:
Here, given that the device would need to be paired with a third party app, the codes you get to diagnose would largely depend on the app you download.
Where you choose to download a free or cheap app, you might be left with limited functionality.
Another thing is, the device may be a tad slower in reading codes- this might be of concern for those who might need the scanner more frequently.
Otherwise, for DIY guys and infrequent users, the speed won't really matter.
Here, this video is going to help you know and understand more about this OBD II scan tool.
Advanced diagnostics
This OBD2 code reader comes with one great feature, that is, live data streams. Just that you need a diagnostic app that supports live streaming. Make sure get an app that supports the same.
What I liked:
If the diagnostic application you have is an advanced one, you will like the live data streaming function. It will be helpful while you are on a long trip or such. You can not only view, but you can even download the data on your phone to view it later.
What I didn't like:
The Kobra OBD2 code reader's list of advanced diagnostics feature isn't any vast. It is, in fact, limited to the live data streaming and not much of anything else.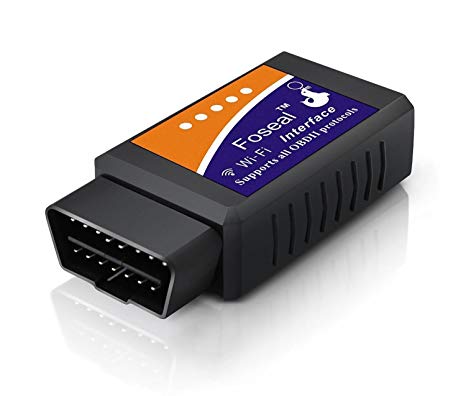 Talking the advantages and disadvantages
Pros:
The upgraded version that eliminates most troubles
Good Wi-Fi range
One of the cheapest OBD2 scanners in the market and comes at a very attractive price range
Sturdy and durable design
The Product is one of the limited OBD 2 scanners that comes with a one-year money back guarantee
Cons:
Wi-Fi-based connection would prevent the phone (connected to the scanner) accessing the internet or any other network
Not suitable for professionals and advanced technicians who might need to scan for more advanced data and need more advanced functionalities
Slower in reading when compared to advanced devices
Third party applications required for diagnostics
Who is it for?
The Kobra OBD2 scanner is one of the good quality cheap OBD 2 scanners that can benefit the entry-level OBD scanner users. We wouldn't recommend it for professional technicians, though.
5. BlueDriver Bluetooth Professional OBDII Scan Tool for iPhone, iPad & Android
Rating: 4.4/5
The Bluedriver OBD2 scan tool set comes along with an app- an excellent app, to be precise. The product boasts to be one of the best and cheap OBD II scanners. How does the set actually perform altogether? Let's have a look.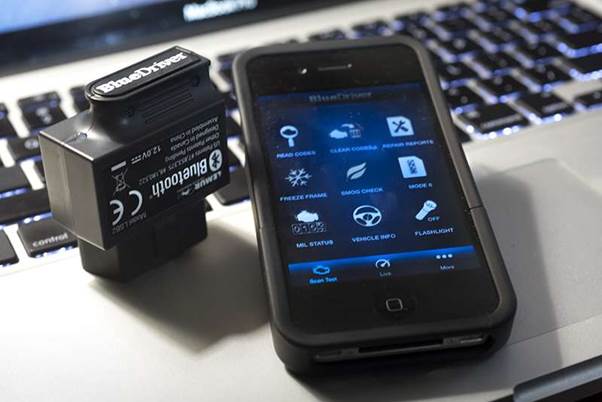 The application
Yeah, we like the Bluedriver application enough to put it up before anything else. While the dongle is nothing but an adapter until you have it connected to a device and have an app perform the functions. The good thing here is, the Bluedriver OBD2 diagnostic applications come along in the package you buy.
What's more? It functions absolutely well!
What I liked:
The Bluedriver app comes free with the OBD2 code reader. Let's assure you, the app is wow.
Diagnostic software coming along with the adapter is one great thing. With it, you can save some bucks that you'll have to otherwise spend on buying a good app or making an upgrade to get the desired data or diagnostic information.
Another great thing is that the application runs quite well altogether. The app possibly enables you to carry out just and almost whatever diagnostics you want to.
Moreover, the app not only work efficiently on Android platform, but also work well on iOS platform. Great news for Apple users!
What I didn't like:
Some may feel off the adapter being dependable on application to be used as a complete diagnostic device.
Certainly, for those who are looking for a stand-along OBD2 scan tool, this may not be it. But, that is no big deal, given how efficiently you can conduct diagnostics with this OBD2 scan tool.
However, you wouldn't like it too much if you are in a situation where your mobile or device has failed!
Take a look at this video if you want to know a bit more or want to clear any doubt about this great OBD2 scanner:
Compatibility
The company boasts of the OBD 2 scanner's ability to work efficiently with any OBD 2 compliant vehicle (those manufactured accordingly post 1996).
It is designed to not only read the engine codes, but also to be compatible with all vehicles for some advanced functions as well. It seems to be working as expected for most.
What I liked:
The product indeed is compatible with mostly every vehicle. Particularly for engine code, the OBD code reader totally works for roughly any vehicle.
What I didn't like:
Even though it did work on every OBD2 compliant vehicle, some degree of difference in the level of performance is seen with the BlueDriver Bluetooth Professional OBDII Scan Tool, with different vehicles.
This is a point of concern for many, because some of the diagnostic functions are found not working efficiently, or even worse, not working at all in some vehicle brands, despite of being OBD2 compliant.
The main aspects whose diagnostics are found varying is Airbag and ABS. These results are based on the test we did on some EU-made vehicles.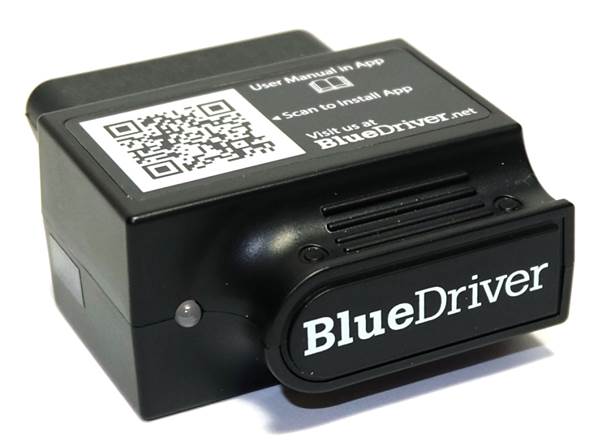 Diagnostics and performance
BlueDriver Bluetooth Professional OBDII Scan Tool lets you read and clear the codes- yeah, all of it. This affordable OBD2 scanner supports impressive diagnostics. Not just the general engine code, but it can deal with transmission, SRS,ABS or any such.
What I liked:
There is hardly any bothering involved in reading or clearing codes with this top OBD 2 scan tool. It's function is not limited to engine codes, and moreover gets along with multiple advanced functions such as performing smog-tests or getting other vehicle information or getting live data.
The real time data can be really helpful as you can save a few lot of hours that you would have to spend on diagnostics if it weren't for real time diagnostics. It is impressive that you can easily get the vehicle information that you, as a car some EU-made vehiclesmechanic or a car owner, feel the need of.
What I didn't like:
We found the Mode 6 test somewhat difficult to perform with the scanner, since you might need professional assistance as it's not easy understanding the data provided. Another aspect to be mentioned as a setback is the port loosening-up eventually when it is left plugged for a few hours.
Talking the advantages and disadvantages
Pros:
Wide code coverage
The scanner not only supports the basic diagnostics, but also various advanced diagnostics
Great code database that integrates code definitions as well as the error-code fixes, as recommended
Efficiently functions with Android as well as iOS devices.
Highly efficient Bluedriver application for supporting a wide range of diagnostic functions
Supports live data
One of the cheapest OBD2 scanning solutions for beginners as well as advanced level users.
Cons:
Not a stand-alone device
The scanner is not compatible with windows platforms
Who is it for?
BlueDriver Bluetooth Professional OBDII Scan Tool is an effective diagnostic solution for all the Android and iOS users.
Given the level of efficiency offered by the Bluedriver application, it is recommended for not only the beginners, but also the advanced level users. Carry this little this around, get your vehicle info as and when you seek it.
6. OBDLink MX Bluetooth OBD2 Scanner for Money
Rating: 4.4/5
While this product costs slightly higher than what other cheap OBD2 scanners costs, it's coverage, compatibility and performance may actually be impressive. The OBD2 scanner comes with an application of its own. Here's the detailed review of this popular OBD2 scanner.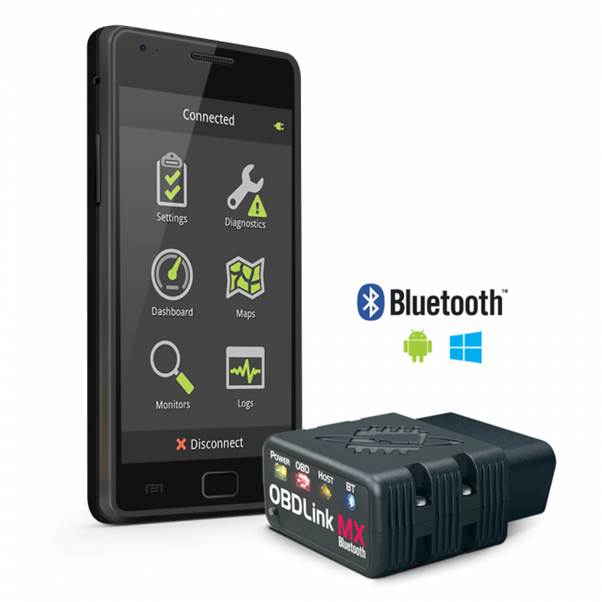 Compatibility
Based on what we experienced, this OBD2 scanner worked on roughly every vehicle we tried it on. We have experimented it with a variety of domestic and foreign vehicles
Device compatibility is amazing with Android devices as well as windows and functions efficiently on them. However, the OBD2 scan tool does not work with iOS at all. This turns down all the Apple iPhone or iPad users.
Talking about compatibility with various applications, it comes with its own app that is OBDwiz. Apart from that, you can also purchase and use several other OBD2 diagnostic applications with the scan tool.
What I liked:
The vast compatibility of the OBD2 scan tool is appreciable. It works well on Android and window platforms. Connecting the scanner to those, is a breeze.
Now, the tool's versatility, as in, it supporting the compatibility with other applications while the product comes with its own OBD diagnostic application, is something we really liked.
What I didn't like:
Basically, the tool not being compatible with iOS devices is a big setback. Moreover, the application is not as good as you'd expect it to be like, based on what you pay. Simply not too reliable when it comes to better diagnostics.
Ultimately, there would be few many vehicles including Mazda, GM, Lincoln, Ford etc.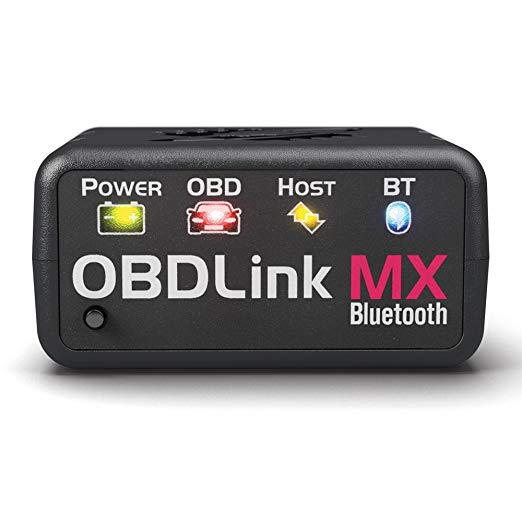 Set up and connectivity
You can easily connect this OBD2 scanner to your mobile device through Bluetooth. You can even use it with computers (with Windows) by connecting it via Bluetooth. When we experimented, the scanner automatically connected with our Android device.
What I liked:
One great thing about this particular OBD2 code reader is that it is absolutely a breeze to set the scanner up. Moreover, since the scanner uses Bluetooth instead of Wi-Fi for establishing connectivity, you have the device free for networking purposes.
Now, the best thing? If your device has got Bluetooth 4.0, you will be able to connect any other device alongside the scanner, through Bluetooth.!
What I didn't like:
There wouldn't be anything that you'd dislike about the connectivity or set-up dimension of this OBD2 scanner.
Here's a great guide to the OBDlink OBD 2 scan device
Diagnostics and functioning
The scanner performs its job of scanning and clearing codes quite well.
What I liked:
You'd really love how fast the OBDLink scanner performs the task. The OBD2 scanner hardly takes 15 seconds to read the codes and you can have the error codes cleared, all in a matter of minutes.
One good thing about the diagnostics of the app is that it would let you find when were the codes cleared for the last time.
It can be a useful thing if you are a car dealer or if you are planning to buy a car, as you can easily know the status of the vehicle.
What I didn't like:
The OBDLink OBD2 scanner does not cover a wide enough range of codes. This OBD2 scan tool's inability to read the manufacturer specific codes.

Talking the advantages and disadvantages
Pros:
Amazingly fast functioning and speedy reading and clearing of the codes
Small in size, making it convenient to carry around or to leave plugged in
Works on Bluetooth, and not on Wi-Fi
Comes with its own diagnostic application
While it has its own app, it also supports most other diagnostic apps, thus letting you purchase app of your choice if you don't like OBDwiz
Works efficiently on Android as well as Windows platforms
Compatible with most OBD2 compliant vehicles
Cons:
One major setback is that this OBD II scanner is not compatible with the iOS devices
The scanner can just work for basic engine diagnostics and codes
It do not support advanced diagnostic functions and thus, not suitable for professional or advanced level users
Who is this for?
This cheap and reliable OBD scanning tool can be a good choice for the entry level users. The device and its functioning can be quite easy-to-understand for even the beginners.
The device can be easily used by the Android and Windows users. However, due to its lack of support for iOS, it cannot be used with Apple devices.
7. ANCEL AD410 Cheap OBD2 Scanner for Auto Engine Light Check
Rating: 4.3/5
ANCEL AD410 OBD2 Scanner is an excellent update to the simpler car code reader. It reads and erases codes when the engine warning light comes on.
ANCEL AD410 OBD2 Scanner shows the live data that is reported by ECU, engine temperature, O2 sensor readings, etc.
Let's take a look at the different features and specifications of ANCEL AD410 OBD2 Scanner!
Is it worthy of buying or not?
Just plug your OBD II scanner into your car's OBD2 port, and switch on your ignition and you're ready to go. DTC OBD-II DAT Integrate Research Library and keep up to date in a timely manner.
Once the code is found, it will display the definition directly by clicking on the selected error code.
Compatibility
ANCEL AD410 OBD2 Scanner has powerful compatibility and functionality, at least with the models it easily connect to.
What I Liked?
It works on most vehicles from 1996 and onwards. It operates all OBDII protocols like KWP2000, J1850 VPW, ISO9141, CAN (Controller Area Network) and J1850 PWM.
What I Didn't Like?
In some cases, this cheap OBD2 code reader is not compatible with older versions of vehicles. This can really be quite frustrating for some drivers.
Diagnostics
ANCEL AD410 OBD2 Scanner allows you to quickly read and erase stored program codes, pending codes, and show code definitions.
Unlike other cheap and old versions, the ANCEL AD410 scanner goes with a more advanced 32-bit CMS processor that has the specialty of high speed, compressed volume and constant performance.
What I Liked?
Quickly read and erase stored codes and pending codes and display code definitions, disable MIL (check engine light).
It also helps to reset the monitor before taking it to smog, the more it tells you what's going on before putting the car in repair, saves you trips to your mechanic.
What I Didn't Like?
ANCEL AD410 OBD2 Scanner only supports engine diagnostics.
Sometimes it cannot clear the error code. The fault causing the display of the error code must first be repaired, and then the code can be deleted.
Here's a video on Ancel OBD scanner:
Usability
ANCEL AD410 OBD2 Scanner performs the O2 and EVAP sensor test. The EVAP system test allows you to run a leak test for the EVAP system of the vehicle.
The O2 sensor test is used to retrieve and view the O2 monitor test results for the most performed tests from the vehicle's onboard computer.
What I Liked?
It can save or print the diagnostic report if necessary.
It does not need a battery or charger; it gets the power directly from the OBDII data link connector in your vehicle.
ANCEL AD410 OBD2 Scanner supports English, French, German, Finnish, Spanish, Dutch, Portuguese and Russian.
What I Didn't Like?
It provides a FREE software update to fix the latest bugs or add new settings, but you have to download the software from ANCEL website, and then follow the instructions on the screen to get there which can be frustrating sometimes.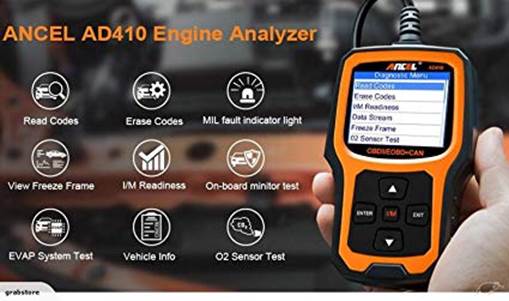 Display
The Code Reader in ANCEL AD410 OBD2 Scanner is an excellent update to the more basic diagnostic analysis tool. Featuring a 2.4-inch (262K) color TFT LCD, it displays test results more clearly.
What I Liked?
With the easy-to-read UI user interface, you can easily access OBDII configuration, OBDII diagnostics, I / M preparation, DTC search and revision, you do not even have to read the manual to know what to do, even a beginner.
What I Didn't Like?
After plugged into the computer with a USB cable, the LCD will not turn on until the update is complete.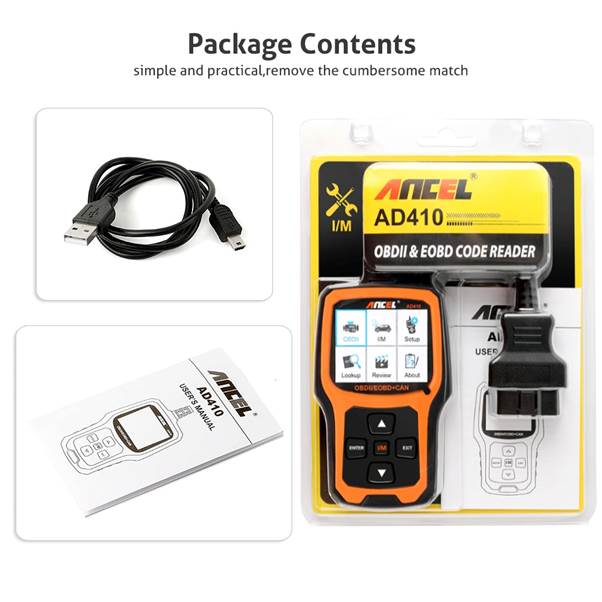 Talking the advantages and disadvantages
Pros:
Read and clear the engine light codes, generic codes and manufacturer specific codes, and reset the monitor.
Display all elements of the data feed or select a specific live data element with a graph
I / M button checks the status of live broadcast preparation
Onboard monitoring by reading the results of the built-in diagnostic monitoring
Initiates a leak test for the EVAP system of the vehicle (not all vehicles support the EVAP test, depending on what is installed on the OBDII system by the manufacturer)
O2 sensor test allows recovering and visualizing the O2 sensor and monitors test results for the most +realistic tests from the onboard computer of the vehicle
Built-in DTC search library for manual recovery and displays code definition
Extract information VIN, CIN and CVN
Cons:
Works on the vehicle with 12V battery ONLY
Must be 16-pin OBD II protocol
Customer Support
Do you have problems with your vehicle?
Don't worry, just activate the "FEEDBACK" option in the settings, and send the recorded file via PC, you will get support in a few days.
Who Is It Built For?
ANCEL is considered to be one of the great specialists in the world of electronics and innovation in a comprehensive way, with several advantages, including control of the parameters and the availability of several highly functional features that are interesting and innovative.
This scanner is basically designed for beginners or inexperienced drivers and mechanics who want to check their vehicles performance without having much knowledge about the particular field.
8. FOXWELL NT301 Cheap OBD2 Scanner
Rating: 4.3/5
FOXWELL NT301 comes with an English User Manual , USB cable and an adapter. OBD2 Scanner runs fast. It never slows down or stops.
With protective case, it is hard and durable. FOXWELL NT301 works with all OBDII / EOBD compliant cars, light trucks, SUVs, minivans and Hybrid sold worldwide.
It Read / Clear DTC and I / M hot preparation keys make it easy to use this tool right out of the package.
FOXWELL NT301 provides access to readiness readings, DTC information and clear function.
Red-Yellow-Green Led and build-speaker indicate emissions monitor status.
For using this cheap OBD scan tool, you can download the updated Foxwell official website tool, connect the NT301 to PC and log into the Foxwell program, the device will be automatically detected.
You can go to setting to select the language of your software.
The OBD-II / EOBD menu gives you access to all OBD service modes.
According to ISO 9141-2, ISO 14230-4 and SAE J1850, the OBD application is divided into several subroutines, called 'Service $ xx'. Here is a list of OBD diagnostic services offer:
Request current powertrain diagnostic data
Request for data on freezing images
Request Emissions Diagnostic Trouble Codes
Clear / reset program-related diagnostic information
Request oxygen sensor monitoring test results
Requests on-board monitoring test results for specific monitored systems
Requests diagnostic trouble codes related to emissions detected during current or last driving cycle
Request for control of the embedded system, test or component
Request Vehicle Information
Request for DTCs with Permanent Status Issues
Compatibility
FOXWELL NT301 OBD2 Scanner works on most cars with the OBD2 system (16-pin plug). Though the scanner doesn't work on roughly 'every car built post 1996', it does have a big list of vehicles covered.
Based on what we found in out tests, the scanner works just fine with most models, even the ones pre-2000.
What I Liked?
Foxwell NT301 OBD2 Scanner works efficiently on many of the cars that aren't even listed by the company, such as Peugeot, Citroën etc. It's coverage can be really appreciable.
What I Didn't Like?
While it is seen working pretty well with newer models, it has a hard time working with the older ones. like gasoline (12V) created in 2002, diesel (12V) of 2005, American cars of 2000, and some Asian car since 2005.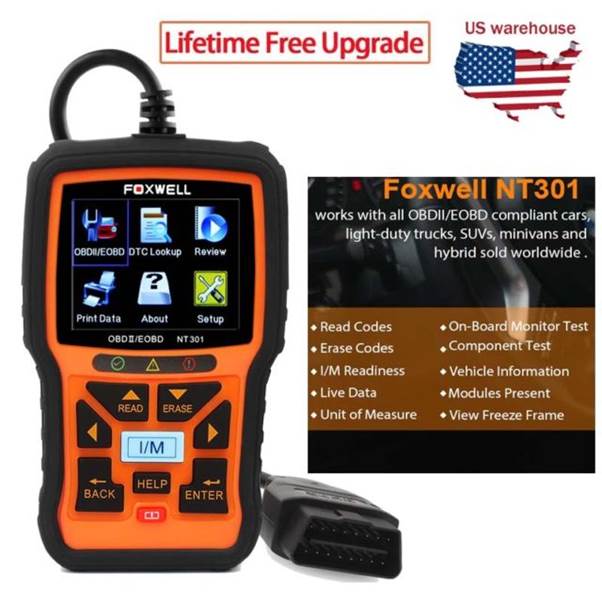 Diagnostics
This diagnostic device gives real-time data per chart, visual, easy to know vehicle status, ensure driving safety.
What I Liked?
Foxwell NT301 OBD2 Scanner turns off MIL (Check Engine Light) LED, reads / erases engine error code, search for DTC, I / M test, O2 sensor test, and acquire information (VIN).
What I Didn't Like?
FOXWELL NT301 OBD2 Scanner only supports following Operating System: Win98 / NT, ME Win, Win2000, Win XP, VISTA and Windows 7.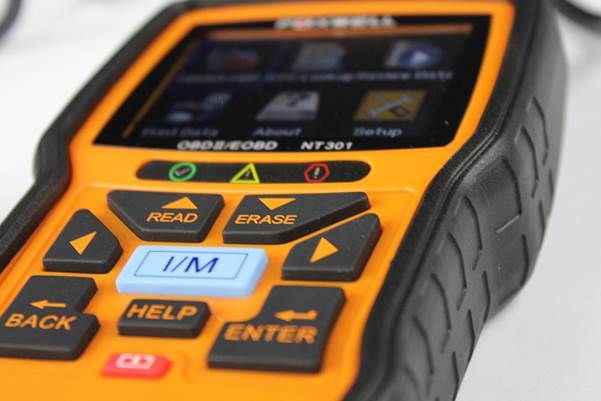 Usability
The free lifetime update feature allows you to have the latest bug fixes and new settings added. The print report function enables you to pass the report to your mechanic. Remember to press the HELP key for five seconds while updating your machine.
What I Liked?
The package offers a paper manual in English; you can configure this device in French and other languages and download the manual (in PDF format) via a link available on their website.
What I Didn't Like?
The Foxwell NT301 OBD2 Scanner cannot be updated on the Mac platform.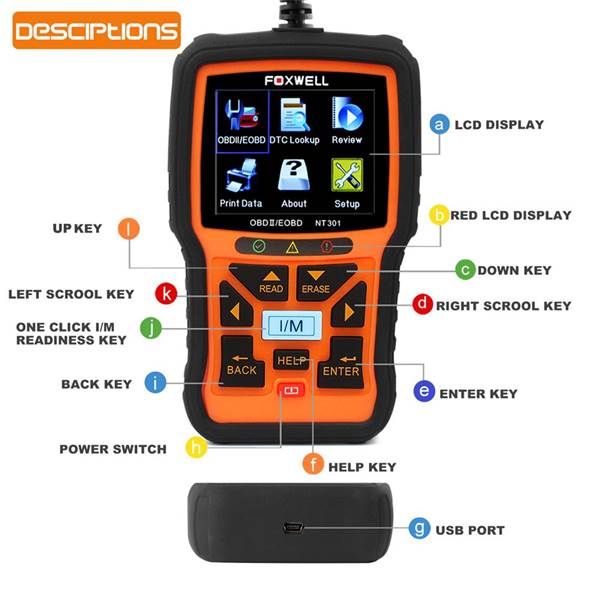 Display
FOXWELL NT301 OBD2 Scanner displays the DTC definition on the TFT color display; troubleshooting coders recommend technicians the main cause of a problem code faster, keeping the diagnosis and repair time.
What I Liked?
Classic keyboard, menu-driven navigation, hotkeys and 2.8 "TFT color display makes it extremely easy to use.
What I Didn't Like?
Multilingual menu and DTC definitions only read English, French, Spanish and German. You have to update for more options.
Live Data
FOXWELL NT301 OBD2 Scanner reads recordings, graphics and live readings of sensor data. Read live O2 sensor test data and PCM data flow, display monitor and I / M readiness status (emissions).
What I Liked?
Automatic acquisition and decoding of VIN make it much easier to read the manufacture of specific codes and six improved data.
What I Didn't Like?
NT301 operates mainly for standard 12V voltage, European Asian American gasoline vehicles comply with compatible 16-pin OBD II interfaces. The scanner cannot work on hybrid cars and electric cars.
Additional Features
FOXWELL NT301 works with all OBDII / EOBD compliant cars, light trucks, SUVs, minivans and Hybrid sold worldwide.
Foxwell NT301 OBD2 Scanner can also help catch intermittent problems or confirm repairs during a workout cycle.
It not only read and erases engine system faults; it also shows live sensors in text data and graphics format and allows you to focus on any suspicious reaction or symptom-specific data parameters.
It reads freeze frame data, which shows engine conditions such as fuel, temporary cooling motor, etc., the time the indicator of malfunction (MIL) has been set.
With internet access, you will always have the latest bug fixes and newly added settings, and they are lifetime delivery.
Unique one-click update and automatic update reminder let you know with the latest technology.
With FOXWELL NT301, you can scan the system engine via ECU obd2 port, read and erase the engine error codes, know the exact problem, fix it, and disable the MIL engine light.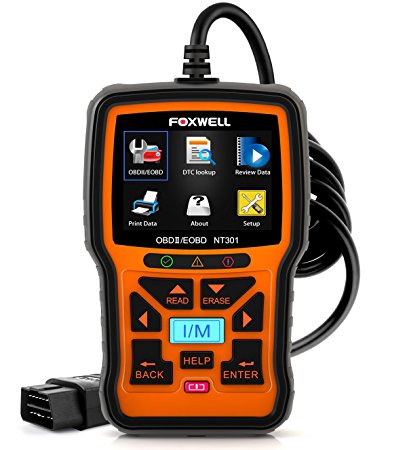 Talking the advantages and disadvantages
Pros:
Fast emissions state check availability and drive cycle verification
Red-yellow-green led and built speaker indicate emissions monitor status
It can also help catch intermittent problems or confirm repairs during a workout cycle
Build-in DTC Search
NT301 has installed the library code, and it is used to search for code definition, saves your time searching online.
Clearly organized keyboard, navigation menu by, shortcut keys and 2.8 " TFT color screen together make it extremely easy to use.
Supported Protocols: J1850-10.4, J1859-41.6, KWP2000 (ISO 14230), MAY (ISO 11898 Network Control Areas) and ISO9141
Supports multiple code requests: generic (P0, P2, P3 and U0), manufacturer-specific codes (P1, P3 and U1) and pending codes. The Colors code disables the Engine Light Check (MIL) and resets the monitors.
Click on the patented custom unique preparation key for a quick check of status emissions availability and verification of the driving cycle.
It can track the cause of CEL Turned off Check Engine Light (MIL), clears the codes and resets the monitors.
Read the freeze frame data that shows the engine conditions such as the engine coolant temperature, the engine coolant temperature, when the malfunction indicator lamp (MIL) has been set.
Keep your vehicle's ignition on while you test your car.
Cons:
Can only perform diagnostics
Does not supports all operating systems
Require updating for further use
Customer Support
Foxwell NT301 technician offer after sales service as well. If you have any problem regarding the device, then you can contact via website or contact number.
Who Is It Built For?
Unfortunately, the majority of electronic devices can break down quickly, and this generates exceptionally high costs depending on the type of car and the brand, so checks are usually required to avoid this kind of inconvenience.
FOXWELL NT301 OBD2 Scanner is specially designed to facilitate a layperson as it is easy to use and very straightforward device.
It can also turn into a pro tool if you take some time out to study about its fascinating features more.
9. JDiag JD101 Reasonable OBD2 Scanner with Battery Test
JDiag JD101 is incredibly and beautifully designed which gives you the ability to read and clear most and common types of OBD 2 error codes. This car diagnostic tool has a live data mode.
You can also view freeze frame data and the vehicle's information.
That includes VIN, CIN, and CVN.
With this revolutionary standalone tool introduced in the market, you now don't need to pay extra money  or external to get the vehicle diagnostic report.
It all became possible by this intelligent device which not let you to diagnose the vehicle but also conduct battery test like battery status, voltage and calibration id.
It really is the definition of a budget OBD2 scanner.
This device has become very popular and trying to make user's life as simple as possible. Compact and lightweight, it comes in a lime green colour.
There are only 4 buttons, a feature that makes it easy to use.
Let's see how this particular OBD2 scanner performs.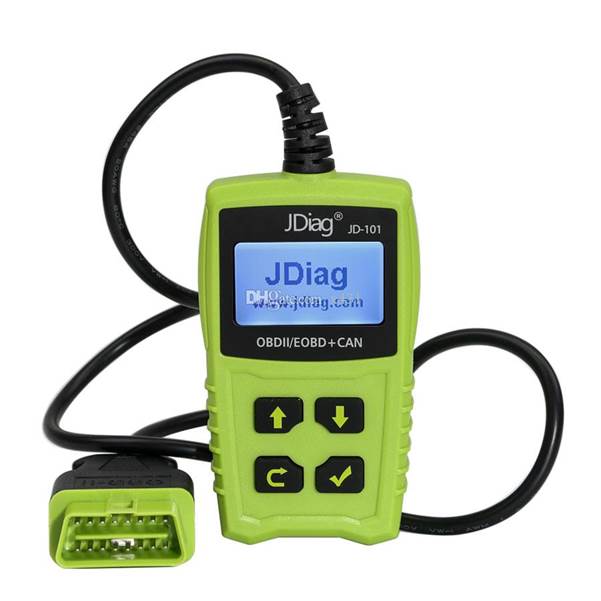 Compatibility
The JDiag JD101 is well suited with "AUTO" protocols, these protocols allows the device compatible with all the models of vehicles manufactured after 1996 and other newer vehicles
This device has the great "CAN" protocols, which means that it is compatible with CAN vehicles. The company has designed its software uniquely so that it easily operates and access by its customer. This tool facilitates to read generic and manufacture error codes.
There's another good thing about this device is that its software can be easily updated. To update software just go to its official website and then go to download section there, software can be updated.
The right procedure of connecting this device is pretty simple just plug it into vehicle's OBD 2 port and then hit the engine it works properly and perfectly but if you do it in a very wrong way like you start the engine and then plug it into vehicle's OBD 2 port it won't work.
What I liked:
It's so simple to connect to any vehicles that even an 8 year old can connect and one cool thing about it is its compatibility with any model of vehicles
It can easily be connected on various brands of car like Ford, Toyota, BMW, Benz, Audi, Nissan etc.
What I didn't like:
The company claims that it can work on every model of vehicle manufactured after 1996 -that is not fully true based on practical tests.
Many users complained that this device didn't work with 2004 GMC Sierra, 2002 Silverado and 2004 Suburban.
Last thing which i didn't like is we need to buy USB cable which is used for updating the scanner.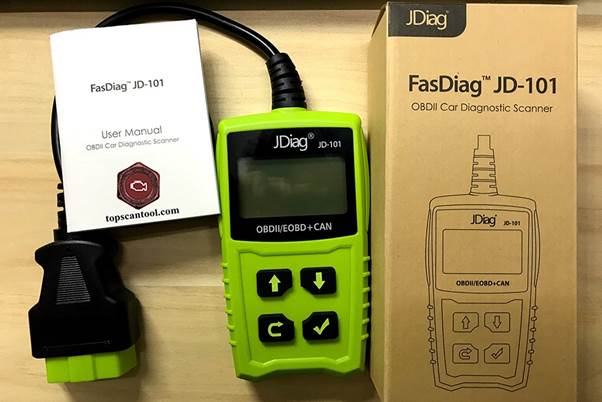 Codes
OBD 2 codes works as the link between vehicle owner and the ECU (Electronic Control Unit).
This is the main player of this device because it regularly checks the vehicles diagnostic, and when it finds an issue that cannot be corrected or removed, it generates in the MIL and store this issue as an error code.
The JDiag JD101 is primarily for resetting the Check Engine Light. It reads engine codes very fast as soon as you connect it to the vehicle.
Not only does it display codes but it also gives a brief description of each. The scanner also clears codes.
What I liked:
It is an excellent scan tool for reading engine codes, works very efficiently and is quite easy to operate.
Apart from the fast speed, this cheap OBD2 scanner actually provides very accurate diagnostic data. You can totally rely on it whenever your Check Engine Light comes on.
What I didn't like:
You won't be doing much more than reading and clearing engine codes with this told. This device seems very basic in design and also offers very few functions. It is also not able to pull and read ABS, SRS and transmission code.
Check out this video brief on this great OBD scanner:
Data
This device has a very unique feature named DIY (Do It Yourself) which is a very helpful in troubleshooting of the car engine. It is one of the few tools that actually give a very clear update on repairs code of engine.
This car diagnostic tool has a live data mode. It comes with trouble code data libraries, which is inbuilt in this diagnostic device, and this OBD 2 scanner tool shows all kind of user's lookup trouble code. Thus it facilitates to understand the basic concept of data before applying any action.
What I liked:
Most entry-level scanners do not provide live data streaming. But the JDiag JD101 does. And it even allows you to retrieve a vehicle's information.
If you are an auto buyer you will love that ability because it enables you to know how genuine the vehicle is.
What I didn't like:
This scanner show basic information like vehicle's CIN, VIN and CVN. However it doesn't give some other information such which all parts of engine are to be replaced and when they were replaced. It's a bit difficult for this device.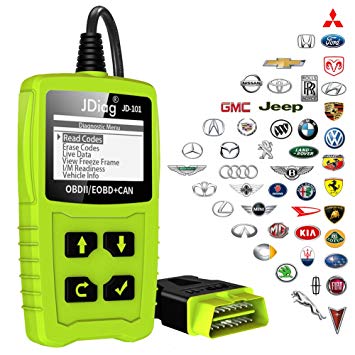 Other Functions
This automotive diagnostic tool is very useful in testing functions such as follow
It runs I/M readiness and battery tests.
What I liked:
To an ordinary car owner, I/M readiness helps you pass emissions. On the other hand, battery test ensures that you don't drive with a dead battery.
The two tests will guarantee that you are neither pulled over nor stuck by the roadside for hours waiting for assistance.
What I didn't like:
I must agree that for the reasonable price and accurate diagnostic report, I can't expect this scanner could do beyond what it is doing.
The tests and live data were a surprise, a welcome surprise actually.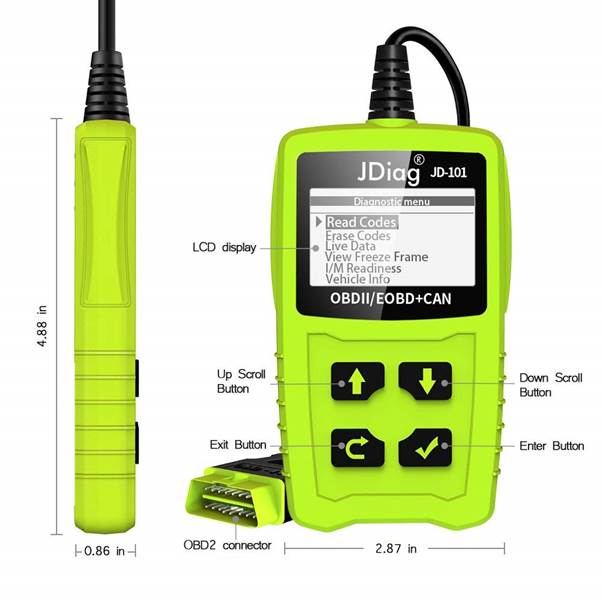 Talking the advantages and disadvantages
Pros:
Built with a large and clear LCD display
Provides user friendly interface
Software is updatable
Easy to carry in pockets and easy to operate
Palm-sized for easy portability
Very reasonable in price and Durable in service
A multilingual menu that includes English, Germany, Spanish, French, Russian etc.
Excellent at reading and clearing engine codes
Can also retrieve vehicle information
Cons:
There's no colour display
Offers very basic diagnostic functions
Doesn't work on as many vehicles as claimed by JDiag
Unable to read ABS and SRS systems
Who is it built for?
It has some flaws but if we see overall the device such the price, the function and accurate diagnostic report, makes it a great entry-level diagnostic scan tool.
Last it offers enough function like diagnose the Engine, Engine light, test emission and battery information and vehicle's information we don't need to pay extra dollars for such function that it is offering.
10. Carista BMW Bluetooth Cheap OBD2 Scanner for iOS and Android
Carista BMW Bluetooth Cheap OBD-II Scanner for iOS and Android allows you to epitomize your car by improving its electronic choices. Furthermore, it gives you the chance to test your vehicle for mistakes and reset any error codes
What set Carister OBD2 apart from the crowd is the fact that it is planned to be used on certain vehicles.
This cheap OBD scanner is available with the Carista's app.
Moreover, you can use it for analytics free but the functionality will be limited to just the ability to reset the light and read Check Engine Light codes.
Carista comes as a set of wireless OBD adapters and their associated apps for mobile gadgets.
Carista BMW OBD2 scan tool is one of these devices.
Sometimes, it is reasonable to buy complete products instead of buying both the adapter and app independently.
They consist of reading generic and producer-specified trouble codes, storing and playing back graphing data, live data, graphing data, offering trouble code definitions,  showing pending codes, giving troubleshooting tips and processes, and sundry functions such as emission testing, sensor reading, and battery saving.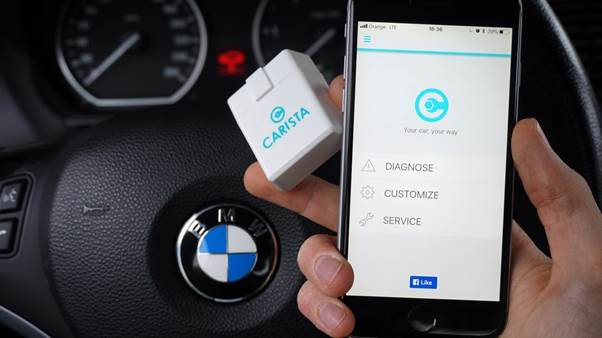 Compatibility
This scanner is specially made for certain brands of vehicles. These vehicle brands are Scion, Mini, Toyota, Lexus, Volkswagen, Audi, and BMW.
However, such a vehicle must be OBD2-acquiescent; meaning that it must have been made no earlier than 1996.
What I liked:
They perform great. This is because they are designed with a few certain vehicles in mind and most often, their functions are tailored to go well with those vehicles.
What I didn't like:
The complex functions are restricted to certain brands of vehicles including Scion, Mini, Toyota, Lexus, Volkswagen, Audi, and BMW.
You cannot use this particular scanner for any complex diagnostics if your own vehicle is not among the list above.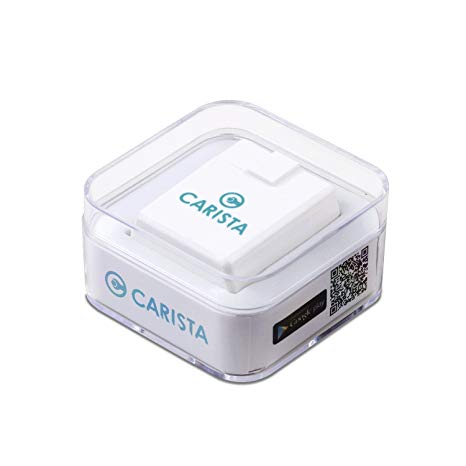 Adapter and App
The Carista scanner operates when matched with a mobile device. The device must have an OBD2 diagnostic app to allow for the effective functioning of the adapter. Fortunately, Carista provides the Carista app with this adapter.
What I liked:
The whole putting-together process of this scanner is very easy. Just mount an app on your tablet or phone, then plug the adapter to the OBD2 port of your vehicle, fix the adapter with the phone making use of Bluetooth and the diagnostic app will discover the scanner and sync automatically.
What I didn't like:
The listing is just for the adapter and not for both the adapter and the app. Of course, installing and making use of the basic functions of the Carista app is free. Nevertheless, you will have to subscribe and pay to use its advanced features.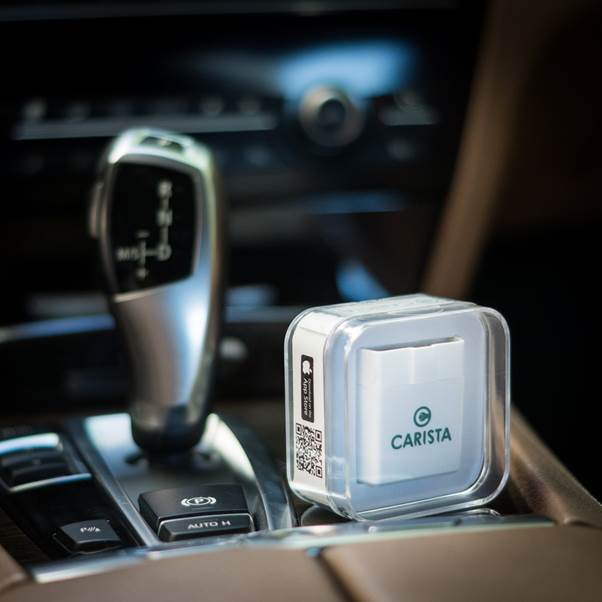 Free App Functions
You will be offered a free-to-install app when you buy the adapter. On the other hand, you can use it for diagnostics for free but it doesn't offer much. By that I mean you can only read Check Engine Light codes and reset the light.
What I liked:
They offer an app in all fairness. Moreover, you will be offered the full-function version for the first one month of buying the adapter without paying a dime.
What I didn't like:
You will get nothing from this particular adapter if you fail to upgrade to the paid version. All you will be able to do is to read and clear engine codes alone.
Paid App Functions
Once the one month trial period is over, you may keep using the limited functions of the free version or upgrade to the paid app of Carista.
But you will be required to pay a subscription of $10 per week or $40 per annum if you opt for the latter option.
The subscription unlocks a number of notable functions for vehicles such as Scion, Mini, Toyota, Lexus, Volkswagen, Audi, and BMW.
What I liked:
It comes with extraordinarily advanced functions. These functions make this cheap scanner come out as good as the high-end models.
In addition, it is possible for you to adjust, save settings and store diagnostic data.
What I didn't like:
Without upgrading to the paid version, it is not possible for you to unlock these functions. It doesn't cost much, but Carista makes it a prerequisite for you to enjoy the complex diagnostic features.
Talking the advantages and disadvantages
Pros:
Brand-oriented OBD2 scanner
Functions effectively with iOS and Android gadgets
Diminutive and solid, it can remain plugged all the time
It comes with a reasonably priced adapter
Can perform advanced diagnostics with paid Carista app
Cons:
To unlock the sophisticated diagnostics you need the subscription
The sophisticated functions of the scanner only work on certain vehicles
Who is it built for?
This particular scan tool is particularly made for those using Scion, Mini, Toyota, Lexus, Volkswagen, Audi, or BMW vehicles.
Buy It on Amazon.com NOW!
Click Here to get back to the Comparison Chart
The Final Verdict
You need not break your bank because you want to have a dependable OBD2 scanner.
From all indications, OBD2 is a useful tool that will help you with your diagnostic functions. Plus, you can one at a reasonable price.
All you need to do is to just identify the functions you are looking for in a scanner and then choose one that matches them. Remember to check whether your favoured choice is well-matched with your vehicle.