Innova 3145 Ford OBD1 Code Reader
Innova 3145 is a very dynamic scanner in the modern days. It fulfills all the desired needs.
The scanner works with great efficiency for Ford Vehicles that was made during 1982 to 1995 including Lincoln and Mercury.
The Innova 3145 scanner is suitable for cars and trucks and other vehicles with weight less than one ton.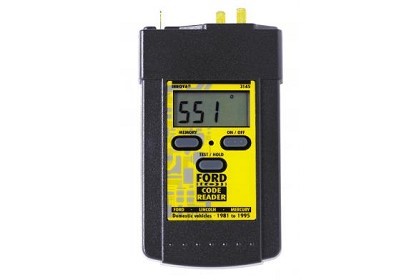 Features
EEC-IV and MCU systems are detected by the scanner.
This scanner obtains the engine and transmission trouble codes with quick response.
The scanner points out right problem with vehicles' engine.
The scanner helps to fix the identified problem with the easy and convenient way.
If Check Engine Light is on the scanner will turn it down for the fixation of problem.
Built-in memory for storing codes is a prominent feature of this scanner.
The built-in memory will be as same even after unplug scanner from the vehicle.
It is a portable device. Anyone can move from one place to other with this device to measure the data.
It is a solid and reliable device, the Innova 3145 measures 10 x 2.1 x 6.2 inches and weighs 1.2 pounds.
The scanner has display of 1.5-inch. This scanner shows the values in numeric trouble codes.
Majority of OBD1 scanners give data in form of countable flashes.
The scanner is very convenient for the professionals. Inexperience workers face lot problems in interpreting the data using OBD1.
Innova 3145's numerical values are easy to read so anybody can understand them.
Capable of testing Ford EEC-IV/MCU systems.
The best part is that it offers you the flexibility to access and retrieve codes in English, Spanish, or French.
Who is it built for?
Innova 3145 scanner is a very simple to device to understand even a layman can use it with a great efficiency. Numeric codes are easy to read and for interpreting. Therefore, the scanner is ideal for the common car owners who use Ford, Lincoln and Mercury vehicles.
By using this device a person can find out the problem in vehicles' engine or transmission systems easily and carefully.
In addition to scanner, it has a well explained manual. Everything described comprehensively in the manual for the use of common people.
The manual describes codes and their definitions with covering the every aspect of the scanner.
Manual explains the methodology of different tests how to conduct like KOEO, KOER, cylinder and relay check tests. It is very informative and easy to learn from the manual.
Advantages and disadvantages
Advantages
User manual has the very precise instructions for OBD1 diagnostics and other Ford OBD tests. It is easy to understand and for reading.
The handling of OBD1 scanner is very easy and friendly. There is no hard and fast rule in this scanner.
The scanner encompasses wide range of vehicles like Ford, Lincoln and Mercury that are OBD1-compliant.
It can also get computer codes from ABS cars.
It is not costly as compare to other scanners.
In packing, an OBD1 scanner and 2AA batteries are present.
Problem is determined easily with this unique scanner.
It is long lasting, light weight and durability is very impressive.
Display of this scanner show the clear values without any ambiguity.
Use of this scanner is safely not damaging.
Disadvantages
The Innova 3145 has a number of advantages but a few disadvantages.
OBD1 scanner has a very short adapter cable. This problem can be fixed by attaching an extension cord.
The scanner has the basic code reader but does not erase the codes. This issue can be solved by upgrading the system.
It does not perform the modern day's functions.
It has not the freeze frame.
Innova 3145 OBD1 scanner is very unique in its qualities. It works at the optimum level for the perfection. It is user friendly and suitable for the common car owners.
This scanner is the best for retrieving the engine and transmission problems in the vehicles. This tool precisely designed for the Ford vehicles that were manufactured 1982 to 1996.
Despite having a few flaws, the Innova 3145 OBD1 scanner is very accurate in performance for different tests.
Innova 3123 GM OBD1 Scanner
Innova scanners are the best in quality and performance. Anyone can invest money in purchasing the Innova scanners without fearing about its accuracy.
Innova 3123 is a unique and quick performance scanner. This scanner manufactured for working on GM vehicles.
Innova 3123 OBD1 scanner connects to a vehicle's on-board computer systems and get the trouble codes.
The scanner works on the different vehicles but more accurate for the US-made GM cars and trucks that were made between 1982 and 1995.
This device is special to read ECM (engine), SBS, PCM and ABS (anti-lock braking system) codes. Bar code readers are used in this scanner.
It is very good device for the average car and truck users.
Features
The Innova 3123 scanner manufactured to obtain electronic and ABS codes.
This device built with safety measures to avoid any misshapen.
It is built with multilingual capabilities as it can relay retrieve codes in Spanish, French, and English.
It is very easy to connect this device with car and any other vehicles.
Innova 3123 scanner is for the US-GM cars and trucks.
This scanner makes it sure to change the Check Engine Light off when it comes on.
This scanner has manual to understand the working of Innova 3123 scanner.
When the detected problem has been resolved the Check Engine Light will turn off.
This device detected the problem at any place. When the problem is detected anyone can fix it by taking to the shop.
This device is not so heavy in weight.
Who is it built for?
Innova 3123 OBD1 scanner is perfect for the common people who have the GM model vehicles. It is a simple device in using.
It attached to a vehicle's onboard system with care. It is not harmful for the vehicles.
It is a portable device for diagnosing the Check Engine Light. This device does work quickly to find out the problem of the vehicle.
This device should be present in vehicle for emergency. It has the dimensions of 10 x 2 x 6 inches. It is a very compact device that is good to use.
Advantages and Disadvantages
Advantages
Innova 3123 OBD1 scanner is appropriate and perfect to use on GM cars and vehicles manufactured from 1982 to 1995.
The scanner is lightweight and a portable device.
It has the multilingual system like English, French, and Spanish are the primary languages.
The scanner shows the digital numeric codes. These codes are very easy to read and understand.
The scanner can read the ABS codes.
So once the Check Engine Light comes on you can perform a DIY diagnosis.
It is available in the market on reasonable price.
It is a compact and solid device.
Easy and simple to use for the common people and beginners.
Manual is also given to understand the definitions of codes.
Disadvantages
Innova 3123 OBD1 scanner can read the codes effectively but does not delete them.
The very important disadvantage of this device is no up gradation of scanner software.
It has the small coverage in code reading.
The metal prongs of this scanner are not strong enough.
Innova 3123 OBD1 scanner is an ideal code reader for the US-GM cars and trucks manufactured from 1982 to 1996.
It is a friendly and modern device to find out the problems in the vehicles. It is an affordable device for the common people. Anyone can use it after reading the some instructions on the manual book.
It should be placed in the cars and other vehicles for the utilization in emergency. It will prove helpful for the ordinary people to fix the problems of engine and transmissions.
Innova 3120 OBD2/OBD1 Code Reader
The Innova 3120 is an advanced form of the diagnostic scanner. It works with a great accuracy and quickly. It finds out the problems of computer and handles them easily.
It is the best scanner for the new mechanic and other car owners.
This scanner is for the both OBD1 and OBD2 vehicles. It performs troubleshooting very effectively. It has the wide range capacity to work on the vehicles.
Innova 3120 scanner can be used for the different OBD2 vehicles like cars, SUVs, and light duty trucks.
In addition, Innova 3120 scanner is used for the OBD1 vehicles that were manufacture from 1983 to 1995.
Presence of EEC-IV system in the OBD1 vehicles is the primary need to use the innova 3120 scanner.
Toyota and Lexus vehicles are appropriate for the innova 3120 scanner.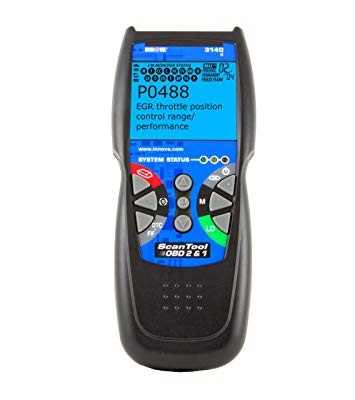 Features
Innova 3120 scanner has the multilingual system like Spanish, French and English.
It performs work very quickly and read engine codes only by clicking the buttons.
This scanner can read and delete the OBD2 and ABS codes in trucks, cars and new model vehicles in the market.
A memory backup is present in the in the scanner that is helpful for review and deep analysis.
Innova 3120 scanner obtains OEM-enhanced trouble codes and transmission diagnostic trouble codes on 1996 and new models of OBD2 vehicles.
The most important thing in the scanner is the automatically refresh data with a great speed. Therefore, it increases the speed of repairing of the vehicle.
It has the colored display of 2.8 inch.
The weight of this device is 2 pound and its dimensions measures 2.5 x 15 x 10.5 inches.
It is a compact and solid device.
Who is it built for?
Innova 3120 is a unique a device for accessing the errors in car engines and transmission system. This device is for the OBD1 and OBD2 vehicles.
It appeal the audience for its great accuracy affordable price. It is scanner that is helpful for the common people due to its simplicity.
It is also good for the DIY technicians. Innova 3120 device works very quickly to find out the problems in car engines.
Anyone can get benefit from this scanner after following the manual book.
Advantages and Disadvantages
Advantages
Innova 3120 OBD1 and OBD2 scanner is very smart device due to its great performance.
It has the technology of Bluetooth to connect with respective devices.
Memory backup and battery is also present in this scanner to make its performance more efficient.
The scanner can display more than 20 diagnostic functions.
This scanner can scan the any professional technology in the modern age like OBD2 light trucks, cars and hybrid manufactured from 1996 onwards.
Innova 3120 scanner shows Emission Readiness status with red-yellow-green LEDs.
The hotkeys provide quick access to erase functions, freeze frame, DTCs, and ABS.
The scanner helps to know the problem of engine in the quick time due to its latest technology.
It reads the codes accurately and erases the anti-lock break codes.
Automatic refreshing of the device in the quick time (30 seconds) enhances its performance.
This device is multilingual. Different languages were installed in this scanner like English, Spanish and French.
It can be used when the vehicle is off due its own battery backup.
It is an affordable device, light in weight and compact.
A manual book is also given with the scanner to learn its functions.

Disadvantages
Innova 3120 device does not support the SRS codes and cannot do typical professional work like adaptation and matching.
It has the limited coverage .It does work on the specific vehicles.
Innova 3120 device cannot be used for the advanced diagnostics.
But if it's compatible with your vehicle then it certainly makes a good addition to your toolbox. As long as you have it you won't have to worry about the Check Engine Light or ABS and transmission warning lights.
Innova 3120 is a very trustful device for the professionals and the common vehicle owners. It does work better than other scanner in the modern days. This device is suitable for the OBD1 and OBD2 vehicles that are a plus point.
The memory backup and battery system make it different from the other scanner and improve its quality to work. It has the very good level of accuracy.
It works very quickly and point out the error in the engine or transmission system.
It has got the huge popularity among the masses and professional people. So, I will recommend this device to the common people and professional mechanics.
Actron CP9690 OBD2/OBD1 Scanner
If you are looking for scan tool that can instantly link you to millions of fixes, then Actron CP9690 Trilingual OBD1 Scanner is the appropriate tool for you.
It is a technical device built for professional techs mostly in the business of fixing cars. This device is compatible with all vehicles manufactured from 1996 and newer OBD2 and CAN.
Besides, it can diagnose 1994 and 1995 OBD2 compliant vehicles as well as OBD1 1984-1995 GM and 1989-1995 Toyota and Chrysler vehicles.
And as such, it is popular among the professional tech who regularly perform advanced diagnosis on a wide range of vehicles.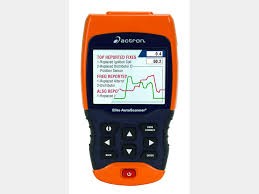 Who is it built for?
Actron CP9690 is a very unique scanner with a number of good features.
It is a suitable device for the different vehicles of modern age like Ford, Toyota, Chrysler or GM vehicle.
It has the very good purchasing in the market due to its performance.
It suits to the common people who do not want to more advance functions.
It can also be used by the professional mechanic. Actron CP9690 turns the Check Engine Light off and find out SRS and ABS problems.
There is no need for any professional training to use this scanner.
It is so simple and quick in work. For the further information can be connected to the CodeConnect. Manual book is also given with this scanner to understand its functions.
Features
It has an effective CodeConnect that links the techs to over 26 million verified vehicles for DTCs.
Oil light rest capabilities for popular 1996-2013 GM and BMW, limited Hyundai, and Ford.
Inbuilt battery capabilities for late model Mini Cooper, BMW, and Ford F-services trucks
Equipped with Airbag codes and definitions functionality for most 1996 to 2013 Nissan, Honda, Toyota, Chrysler, Ford, Hyundai, and GM.
Can perform graph two PIDs concurrently
This OBD1 scanner support ABS functionalities
Support live data recording and playbacks
Built with print capabilities after reading the DTCs.
Has Alternator/battery/charging system monitor that enhance the safety of your vehicle battery.
Has a built-in acronym library.
The total weight of this 2-in-1 scanner is just 3.61 pounds.
It measures 10.2 x 13.6 x 5.4 inches. That's a compact enough size for daily use.
Advantages and Disadvantages
Advantages
Can comprehensively diagnose most popular car models
User-friendly size
It is a highly efficient obd1 scanner as it can read and relay information fast
The scanner can automatically update itself to comply with the current vehicle requirements
You are guaranteed great support through ASE technical staff.
Support live as well as freeze data to enhance you to undertake an in-depth analysis
It has big display to read the things easily and effectively. It is also helpful for navigation.
It is a compact hard and solid device.
It has trilingual system for the ease of the people.
It also has the comprehensive manual book for understanding the meaning of different codes.
Disadvantages
Can be a bit complicated to use
It comparatively expensive
CodeConnect tool contains only English data.
USB adpoter in the package is with very small wire.
Actron CP9690 Trilingual OBD1 Scanner is a true diagnostic gem for professional tech as it can perform almost all diagnostic functions needed to effectively repair vehicles.
It has more benefits than loss. The common car owners should get benefits from this device.
Foxwell NT510 OBD2/OBD1 Multisystem Scan Tool
Foxwell NT510 OBD2/OBD1 is a dynamic and remarkable scanner. It has a great performance according to the modern needs. It works effectively on the BMW vehicles.
This scanner covers the all types of BMW vehicles from OBD1 to OBD2 models. It finds out the problems in the engine and transmission system of the vehicles.
In addition, this scanner is also used for the Rolls Royce and Mini models. It is a device that is very easy to use.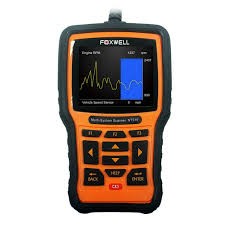 Features
This device has the very interesting and good features.
Foxwell NT510 scanner reads the diagnostics code clearly and remove them easily in all major systems of a BMW vehicle.
It can read the different system of engine like ABS, transmission, SRS, SAS, DISA and many more systems.
This scanner performs some other functions very effectively like battery registration, brake deactivation, control service interval reset, oil light service reset, ABS module activation, throttle body adjustment and so many more.
It has the capacity to start the vehicle tentatively and control its systems for active testing.
This scanner records the data and provides live data graphing and displays freeze frame data.
Foxwell NT510 OBD1 and OBD2 scanner can obtain ECU information.
This device automatically detects the vehicle's model accurately.
Who is it built for?
If you're new to OBD scan tools chances are you'll find the Foxwell NT510 to be a bit too advanced. It may even be beyond what most ordinary car owners need, what with all the advanced functions.
But it is the perfect OBD2 and OBD1 scanner for a professional, especially one who works on BMW vehicle often. Besides codes and live data, the NT510 offers advanced functions like service, actuation, and adaptation.
It practically gives you access to a vehicle's chassis, train and body systems. That's almost everything that a professional mechanic needs.
Advantages and Disadvantages
Advantages
This device can be used on a number of vehicles due to absence of VIN lock.
This scanner works on the both kind of vehicles either OBD1 or OBD2.
This unique scanner supports the TF memory card for the storage of backup.
Free updated software is available in the market for this scanner.
It is a solid and compact device to use.
Its price is affordable.
Disadvantages
The device does not recognize the new battery. It recognizes the new battery only of the same size and capacity.
Mac computer cannot be used for upgrading of the scanner
In the larger picture, this device is very dynamic and effective in the modern age. Anyone can use it after reading it manual book.
It is the device that got great popularity for the BMW vehicles. It performs functions quickly in the modern vehicles of BMW.