Nothing is going to mess your day as much as a "check engine" light when you are headed on your way out. This leads us to an important question – are you having frequent trouble with your car, and going to the mechanic way too often?
Not sure whether it is an ignition timing issue, engine rpm levels or the air and coolant temperature? Does your mechanic look way too happy when he sees you with your repaired car? These are the times when you are going to end up frustrating yourself with the same question over and over again – what is it that is meddling with my car's engine so frequently?
Don't you worry, we have your back. We have the perfect tool to solve all your troubles, and this does not even call for you to have specialized in the field of mechanics.
If you have a basic understanding of a few cars related problems, we think you are going to do well.
What is it?
Have you ever heard about a car code reader? Well, it is a car-diagnostic tool, the simplest you will ever stumble upon. It has been built to interface with a car's computer.
It diagnoses the automotive problems such as ignition timing, level of built-up in the engine, the performance of the fuel injector, firing of the ignition coils, engine rpm levels, air and coolant temperature, crankshaft and camshaft position, the throttle opening, etc.
Thus, after diagnosing and identifying the problem, it reports the trouble codes and gives us the exact issue without any details – this means that all the unnecessary details are filtered out along with a remedy which you could incorporate to better the whole problem.
This is implicative of the fact that you are going to have to seek help or you would want to study the problem thoroughly so that you can think of possible solutions for the same.
Nonetheless, a car code reader does serve to be a headstart.
How does it work you ask?
Like man, technology has come to evolve as well. It was easy to detect an error in a car which was manufactured in the past because all the mechanic had to do was turn on the car's engine and decipher the problem on the basis of the noise that could be heard.
However, today's cars have been equipped with computers and if a problem arises – it is bound to cost a lot.
This evolution in the auto industry was a result of stricter emission standards which required to keep a check on the social costs of using a car. Thus, computers were installed in cars, too.
This did improve the scenario concerning air pollution; however, different brands of companies had prescribed a different method of resolving an issue with the car or its computer.
There were various tools for this procedure; thus, the small shops of mechanics could not afford to buy it all. This meant that the consumers had to spend bucketloads of money.
Hereafter, a more straightforward method came into the picture wherein all the brands of the cars could be checked using the device, and this device was none other than the car code reader.
The computer has been designed in such a manner that every input corresponds to a unique output.
So if the engine control is not able to receive a range of outputs which lie in the standard operating tolerances, then the check engine light is going to flash.
This is when a car code reader would come into the picture.
It is an effortless task to use this tool, all you have to do to make it work is, plug this device into your car's computer system, under the dashboard (in rarer cases, it may be located behind a panel in the dash, or even behind an ashtray or another compartment).
So whenever your car faces any problem, this tool identifies it and displays the "trouble code." Therefore, this portable device hooks merely up quickly to your vehicle and it reads the trouble codes that pop up.
The engine controls are going to use the same programming language like that on the car code reader.
Thus, the screen of the car code reader is going to display the code with regard to the problem, and you can resolve the problem by running to the auto parts store – if it is feasible for you to fix the issue.
It's benefits:
Owing a card code reader gives its owner miscellaneous benefits, a few of them are as follows:
It is cost efficient: it makes you save an enormous amount of money as it cuts down your visits to the mechanic. So instead of visiting the mechanic every time your check engine light turns on, and being fooled away for minor issues, one should own this tool. As this helps you detect the problem on your own and take the appropriate steps.
This tool is compatible across all vehicles, so it is not necessary for one to buy a new car code reader everytime they buy a new car. Plus this tool can be used multiple times, on numerous vehicles. This is a point to be noted because it is not only going to save your time but is also going to increase the utility you derive out of the car code reader multiple folds. (Note: cars and trucks built prior to 1996 require specific proprietary code readers, the newer ones use a universal code reader.)
It also helps you to find out whether the issue is minor or major, thus enabling you to determine the severity of the problem. Depending on the nature of the problem, you can decide on the number of ways you can resort to resolve this issue.
The best part about this tool is its portability. Owners of this tool can carry it whenever and wherever they want. Carrying this tool in the vehicle provides the owner with a peace of mind as the owner gets to be aware of the issue and can take it for repair according to its extremity.
If you depend upon using a car code reader – you will have the knowledge of issues that your car is facing. Thus, if the nature of the problem is extreme and you end up taking your car to the mechanic – the probability of making a fool of you is decimated. Thus, not only an investment in this device is going to be cheap – it is going to make sure that you have knowledge about the other significant issues as well so that you can drive the amount charged by the mechanic down – if it is not apt.
Who are they for? And is it worth using them?
This tool is an essential requirement for all the people who own a vehicle. It has grown out to become a necessity because of the increasing number of attempts the mechanics make so that they can make their way into your pocket and unload a stack of cash.
Owning this tool can assure you from all the future headaches which you might get because of car trouble as well as you are going to have some guidance from something which has no clandestine money-making prospects.
And YES, this product is worth buying as nobody would like to go to a mechanic over and over again for trivial issues.
So possessing this tool allows one to have the knowledge about the malfunctioning of the vehicle plus if it's not a significant issue, one can fix it by themselves.
This will enable you to save your time as well as money. Even if the task requires of you to visit the mechanic, you are going to be sure of the problem and have enough knowledge of the money that it would require.
None of us must have ever thought that we are going to come to a point wherein cars would become all the more complicated than they already were.
They are going to require these newly developed tools so that one can come across the exact issue it faces.
With the increasing complexity in the world that we inhabit – we are going to have to find the best of everything.
So here is a list of some of the best and pocket-friendly car code readers available on Amazon, which we think qualify to be one of the best in the immense number of car code readers that exist:
1) ANCEL AD310 Classic Enhanced Universal OBD II Scanner Car Engine Fault Code Reader CAN Diagnostic Scan Tool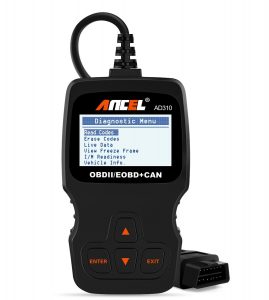 With a touch of classic design, this is one of the best and the most user-friendly tool available just at the price of $35. The reason why it has been claimed to be the best because the procedure to use this device is easy, and a beginner can efficiently operate it.
Thus, as soon as you figure the problem out, you can take measures to fix it – if it is feasible. The device can easily come across the issue which has led to the lightening up of the engine light.
It works on most 1996 US-Based, 2000 EU-Based and Asian cars, and newer OBD II & CAN domestic or import vehicles. It supports eight languages including English.
It immediately identifies your car without even asking you for your car details such as the year, makes, engine, etc.
The device can allow the user to have a look into the historic codes and will also enable the user to access the live graphs of operation of the engine of the car.
It is well built with a large LCD (128*64 pixel) and has a white backlight and contrast adjustment. The test results are going to get displayed right after you request for them.
All aside, you do not have to charge this device. It is going to channel its power after being connected to the concerned port. The device is going to work well with all the cars that you connect it to, and you do not have to doubt its accuracy at all.
2) Car WIFI OBD 2, Wireless OBD2 Car Code Reader Scan Tool, Scanner Adapter Check Engine Diagnostic Tool for iOS Apple iPhone iPad Air Mini iPod Touch & Android –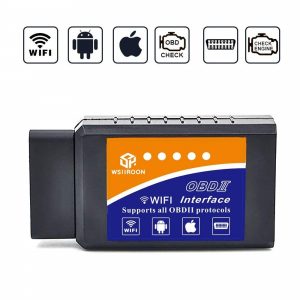 This is one of the best scanners for the smartphone users. It has excellent compatibility for almost all car types (might not work on trucks, vans, hybrids and electric vehicles). Thus, you can throw your worry to the winds as far as you are concerned with using the device for cars.
This device is capable of transferring your car to become a smart car. It is going to diagnose the issue being faced with utmost efficiency.
As soon as the device reads the trouble codes, whether they are generic or manufacturer specific, it displays the meaning of the same in a jiffy, saving vast amounts of time for you.
It is also going to help you figure out the status of your; thus, you will know when is it that you are going to have to repair it and it will become self-explanatory for you to maintain your car well.
It is pocket-friendly as well and has been made available on Amazon just for $17. It has an easy setup, all you have to do is use a third party application, and an enormous number of the same is available for you to choose from.
Once you have downloaded this application and have connected the application with the car, you can enable the tracking of the issues your car may face via phone.
Some of the apps available for you to choose from are: APP for Android: Torque Pro, OBD Car Doctor, DashCommand, etc. APP for IOS: OBD Auto Doctor, OBD Car Doctor, DashCommand, FourStroke, OBD Fusion, etc.
The device has been developed in order to do away with any problem that associates to the "check engine light" signal, and as far as scanning for this cause is concerned, this device manages to do a pretty decent job.
3) OBD2 Scanner OBDII Code Reader – Scan Tool for Check Engine Light – MS300 Universal Diagnostic for Car, SUV, Truck and Van –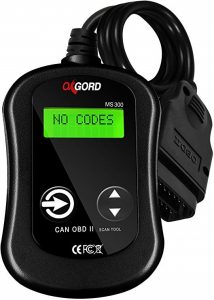 This tiny device has been equipped to work for all the vehicles which have been manufactured post-1996. This device is quickly going to slip into your palm, but you will not be able to realize the benefits it can render upon you as far as a car is concerned.
And If you are low on your budget and still looking for a perfect scanner, then this is the one for you. This is one of the most cost-effective car code reader available on Amazon at the price of just $15.
The device is, also, elementary to use which is one of the critical reasons why it has been made to make it to the best of the car code readers.
The codes read and cleared by this timid device are not only generic but also manufacturer specific.
Alongside this, the device has not been equipped with batteries and does not require to be charged. It is going to be powered when it will be plugged into the OBD2 port.
The LCD screen of the tool displays more than 3000 generic error code definitions in the database. With this aid that the users are going to advantage from – they are going to get rid of the check engine light just as quick.
All you are going to have to do is you are going to follow the instructions carefully so that you can understand the problem. The trouble code can be easily looked up online so that you can gain details about the cause of the problem.
This is implicative of the fact that despite the low cost of the scanner, the utility that it confers is multiple folds. Naturally, you cannot expect it to function like other more expensive car code readers but for its price – it is doing well.
4) FOXWELL NT301 Obd2 Scanner Professional Enhanced OBDII Diagnostic Code Reader –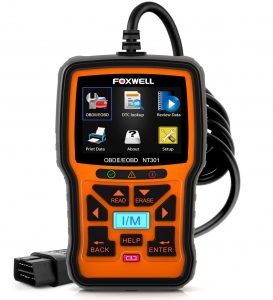 This tool, although is priced for $70, is worth every penny. Beyond the OBDII readings, it gives you on the screen; you can connect the scanner to a computer and print out the results, isn't that amazing?
This code reader has been designed so that you can avail a vehicle doctor for your car. This is the result of the augmented rate of evolution that we have come across. Being a doctor, it is going to professional at what it does and will give you the valid reasons as to why the check engine sign has been turned on.
For reading live data, you are going to get the benefits of using texts as well as graphs. Thus, if you make use of the graphical method, you can predict what, and you can make amends, accordingly, and better the health of your car altogether.
You are timely going to be alerted concerning how well your car is doing on the emission monitor scale.
More than that, it has got the best built-in library which lets you to quickly and easily determine the cause of your check engine light without the requirement of a separate manual or any reference.
This helps you in saving your time to go all the way to access the internet and get proper insights about the problem.
It is also available in three Multilingual packages for options : (1) English, French, Spanish, German and Italian (2) English, Portuguese, Hungarian, Dutch, Swiss (3) English, Russian.
A beginner may not be able to make sense of all the features that have been made available on this tool; thus, it is a recommendation for the ones who have enough knowledge of this realm.
However, it becomes a little easier to use for the people who have the know-how of this area when they become acquainted with the buttons which the scanner has been endowed with.
5) Udiag OBD2 Scanner, CR600 Auto Scanner Read Live Data and Clear Error Code for Universal OBD2 Protocol Vehicle –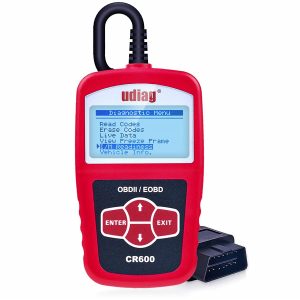 This is the most compact and miniature version of a scanner. It does not require a battery and is small enough to fit in your palm. This scanner is an example of the saying "don't judge a book by its cover." Although it is small, it has explosive amounts of functions and is available just for $32.
The device has been equipped with a library which is going to allow you to look up the codes which have been displayed without going to the internet for help.
This tool is built with a nice rugged rubberized housing which makes it easy to hold without slipping, and the keys are compact so that one can operate this tool just with one hand. The display screen of this device is vast and allows the users' easy access and makes the text being displayed legibly.
This product comes in only two highlighted colors, i.e., blue and red, so one can show it off and choose it according to their personality. It also supports eight languages, including English, French, German or Spanish.
So has your car is running a bit different lately or sounding funny? Well, it's about time for you to buy a car code reader and save your time and money.
You know about the benefits and, well, now you are also aware of the best ones in the market which have been thoroughly reviewed so that you do not land up in a place you didn't want to be in the first place.
We ensure that you are going to get the value of your money once you make use of this device because you are going to realize that how simple the whole procedure has been all along and you have ignored it altogether without giving it a shot.
So say bye to the mechanic for the minor issues!