Cars are one of the most beloved treasures to many people in the world and to keep it safe is their utmost priority. With technological advancements, safety equipment are also enhanced. Today, cars have their own scanning tools, which are capable of identifying the issues prevailing in the structure or mechanism of the car.
You don't need to depend upon professional garages and pay a hefty sum to become aware of the issues relating to car's operations. Some best professional automotive diagnostic scanner are capable of connecting with the internal computer of the car and identify all the problems prevailing in it.
These scanning tools include multimeters, diagnostic cameras and other equipment that have multiple capabilities to diagnose codes and data related to the issues prevailing in the internal system.
OBD2 is the name given to a car diagnostic tool. The cars made after 1998 have been standardized as per the requirement of OBD2 ports.
These ports are found beneath the steering wheel and have substantially improved with the course of time, referring to the features and compatibility.
These OBD2 scanners are then connected to Bluetooth or smartphones via a USB connection.
The Benefits of Automotive Diagnostic Scanner
The scanners have amazing benefits when it comes to the safety and security of your car.
The unnecessary check-up of your car at a professional garage may charge you big bucks, however installing an OBD2 scanner would certainly save your money, time and energy spent on taking your car to the mechanic all the time.
Sometimes, you won't understand the problems persisting in your car, however, these scanners are stupendous in observing the problems and giving signals so that you can immediately take corrective action.
Portability
While driving, many drivers keep a record of check engine lights. Nothing will make your long drives sorrowful than a broken car.
Although, such incidents can be avoided if you put these small code readers and scanners along your trip. So in case, your check engine lights start blinking, then you don't need to rush to a garage.
Compatible Across Vehicles
The compatibility of code scanners is appropriate with many vehicles. The diagnostic method in 1996 was considered a standard system to diagnose issues in a vehicle.
According to an upgraded version, OBD-II, users do not need to buy several scanners for different vehicles. One scanner would do for multiple vehicles.
 For Whom And How Its Important?
 These OBD-II scanners are certainly important. Especially when your work relies on a truck or car, you need to identify and settle those issues before you begin your ride.
Fixing should be done quite earlier, at least when you have the appropriate tools.
The scanning is required on a regular interval like oiling or while doing the maintenance check. It would be a cost-effective deal if you can identify the errors and issues prevailing in your vehicle rather than waiting for a lot of time and going to the garage at the worst state of the vehicle.
TOP 5 AUTOMOTIVE DIAGNOSTIC SCANNER
1) BlueDriver LSB2 Bluetooth Pro OBDII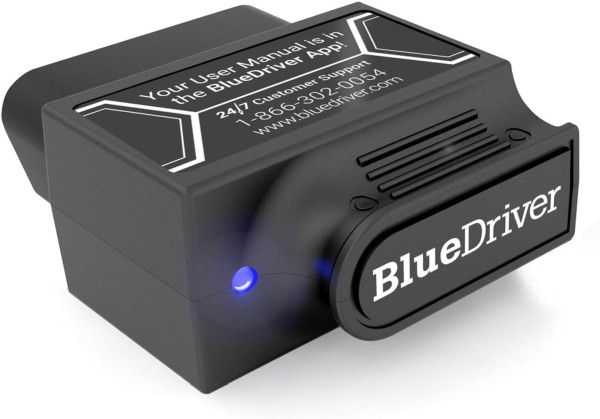 The BlueDriver is one of the most trusted brands for automobile diagnostic tools.
The factor which supports this popularity is the inbuilt Bluetooth connection that allows this scanner to be paired with any of your iOS or Android devices.
By connecting it to a device, the user will be able to read and understand codes via its respective applications. It would also help in clearing the error codes.
This scanner has helped majority users, as they were able to read and understand the situation of their vehicle. The installation and application are said to be simple.
The readings extracted from the scanner for a vehicle produced in the 2000s were absolutely accurate and functional. The people who believe in simplicity must go for it as you can simply use your smartphone and understand the condition of your vehicle.
It's apt for people with less technical knowledge and skill.
2) Autel MaxiDiag MD808 Automotive Scan Tool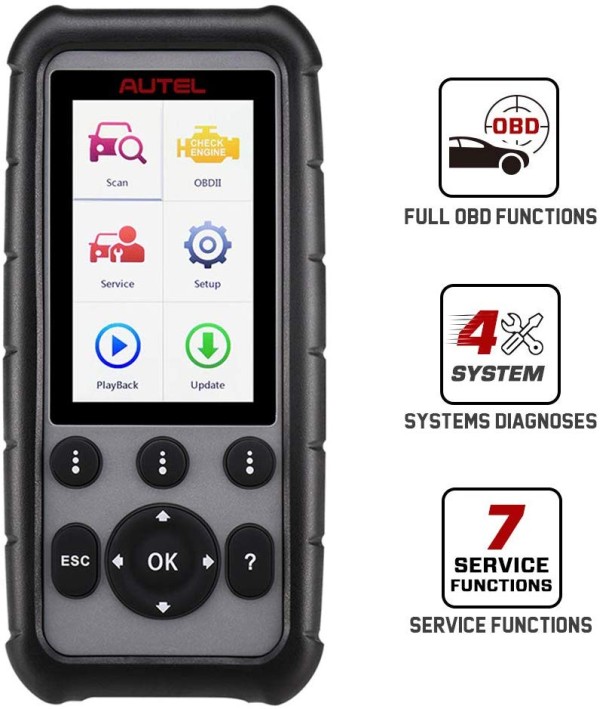 One of the great brands in the industry of car diagnostic tools is Autel. The MD808 is its brand new model, which has a compact design, modern look and a polished full-colour display of 800×480.
These attributes make it handy and provide comfy grip also.
Autel's OBD2 scanner comes with a 1-year limited warranty which makes it one of the best professional automotive diagnostic scanner. Not only this but Autel provides life-time access to its updates for free of cost.
The cherry on the top is its compatibility with multiple car brands.
3) Autel MaxiCOM MK908P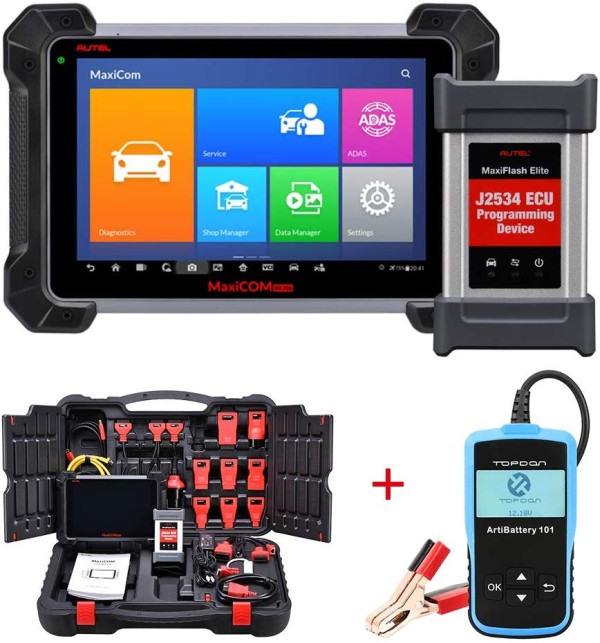 Autel has got you their flagship model, the Autel Maxisys Pro MK908 OBD2. This is one of the best diagnostic scanners available in the market for professional use.
The functionality of this scanner is beyond code reading. This scanner comes with an A9 Quad-Core 1.40GHz processor which combines the usage of an android device and makes the overall usage easier.
This scanner comes with an inbuilt 5MP camera, 8-hour battery life, wifi, 9.7 inches LED touch screen and 32 Gb SSD hard drive.
All these features make it the best professional automotive diagnostic scanner.
4) FOXWELL NT301: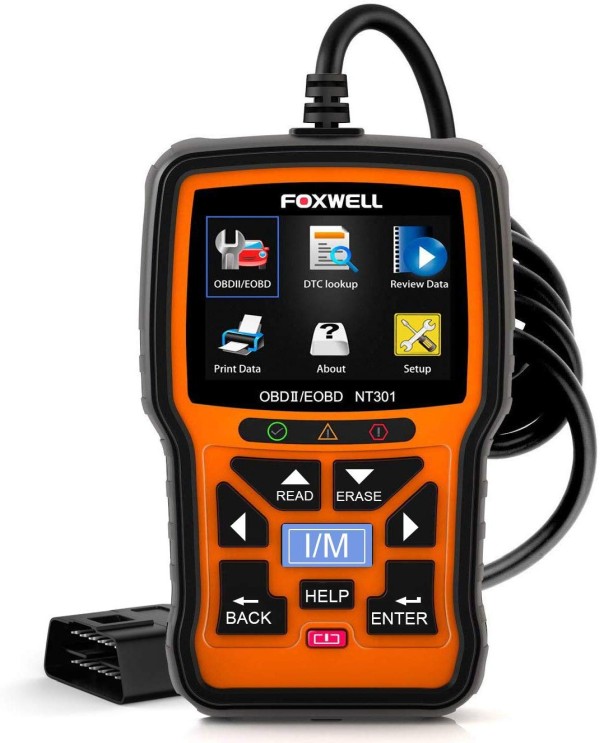 In this list, you can find a universal OBD2 scanner which is capable of reading and erasing generic engine trouble codes.
This Foxwell NT301 comes with a lot of functions that make it one of the best professional automotive diagnostic scanner.
The basic features in Foxwell NT301 are check engine light, check and remove engine fault codes, malfunction indicator lamp, VIN and much more. You can assess the information from ECU with this NT301.
The problems prevailing in oxygen sensor, gas cap, mass airflow sensor, air-fuel ratio sensor can be diagnosed easily.
This is a quick, handy and compact tool that works on Windows operating system. You will have the benefit of a 1-year warranty provided by Foxwell on this product.
5) Actron CP9690 Trilingual Diagnostic Scanner
The most developed product by Actron is the car code readers, however, this is a scanner developed for home mechanics. The CP9690 is one of the rare scanners which complies with OBD1 vehicles and do come with adaptors and connectors.
The advantage of this scanner is the slightly higher sized LCD, that enables easy to approach and visibility of reports and graphs. The design of Actron CP9690 is quite similar to that of Autel MD808 and Innova 3160g.
Although, you would find some difference in the list of features. The reason it is on the list of the best professional automotive diagnostic scanner is its ability to meet the requirements of OBD1 vehicles, so people having vintage cars can also have it.
So these were some amazing scanners to make your car and any other 4 wheeler safe and secure. It's very important to have something like this in your vehicle, as it will not only save your money but will also make your driving experience uninterrupted and sound.
—
In summary, all these are effective scanners and will certainly benefit a car owner.