Your car is one of your most beloved asset that you own and therefore, we understand that you be extra cautious about the needs of the vehicle in terms of maintenance and keeping it up-to-date.
At the same time, you also want your car to be fit and healthy especially when you are riding it on a relaxing vacation and looking forward to a great time.
Imagine you have taken your car out of the city and you are on a highway enjoying the beats of the music played in your car and looking forward to an amazing weekend and suddenly you get a feeling that your car might be dying any moment.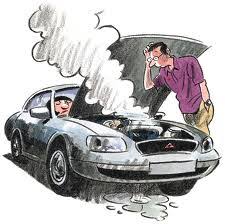 Scary and frustrating, right? That is probably one of the most uncomfortable feeling that anyone could ever have.
The important point to consider here is that your car might be giving an indication of this problem for a while in the form of different warnings like signaling through the engine sign.
However, you might just have overlooked it or since it doesn't indicate what exactly is the warning about so you must have just been confused as to what to check. And thus, in the confusion the malfunctioning feature remained faulty.
This is where OBD II or Onboard Diagnostics II steps in. It is more like a life saver to all the vehicle owners.
There are different types of OBD scanners that are discussed in detail below and with the correct type, you can always be certain as to what exactly the problem is with your car so that you may know how to solve it.
It is more of a doctor for you vehicle that would diagnose the malfunction quickly and easily.
Communication with your car using OBD II Scan
 This diagnostic scan tool basically helps you communicate with your car and through this you car can easily tell you about the issue it is going through.
Your car is probably one of the most cherished assets for you that you keep closer to yourself that anything else and thus, you should have the right kind of tools that enable you to know your car better.
It tell you about the exact problems is real time so that you may do the required things timely and you don't have to suffer later.
Types of OBD II Scan Tools
 The features of OBD II Scan are themselves so convincing based on their benefits to the car owners that those who know and understand the features clearly will have no difficulty in deciding to buy the scanner right away.
This self-diagnostics and reporting tool comes generally comes in 3 types as discussed below:
 These types of OBD Scan tools are very inexpensive and easily affordable. It reads the vehicle codes from any vehicle that already has OBD II installed in it.
However, there are a few things and limitations that this type of scanner has. Since it is the basic version of scanner, they are only able to identify the trouble with your car but will not give out any manufacturer-focused codes or any other data.
Because of its basic features, these are usually used by automotive shops and auto engineers to identify the car issues.
Do-It-Yourself Scanning Tools
They are a little advanced version of the basic tools mentioned above in the richness of features they have to offer.
It doesn't merely read and analyze the Diagnostic Trouble Codes or DTC but it also tells you the issue along with its suggested solution and repair options.
This is a great scanning tool when you are looking for something that you can do yourself.
If you are on a highway or driving through the suburbs where there is no auto shop until a few miles, this do-it-yourself scanner will enable you to self-repair your car.
What's more is that it also allows you to attach it to your cellular device or laptops so that you can access the data more easily and seamlessly.
Advanced Scanning Tools
These are the professional scanners that are of course the costliest among the three types, however, these offer the best features one could ask for from a auto scanning tool.
They offer extensive and professional-level information about the manufacturer's codes along with advanced features of troubleshooting and related data accessibility.
Owing to such professional features, these scanners are usually used by manufacturing plants and huge auto stores.
The scanner seamlessly scans the issue with the car and identifies all the issues with your car within no time. Generally, other types of scanners are not equipped with identifying issues with huge heavy duty trucks but this scanner handles huge vehicles easily.
What Do the OBD Scanners do?
The kind of scope of scanning you will get out of your OBD scanning tool depends on the type of the OBD II Scanner you have. Nevertheless, the primary functions of reading and clearing the codes is present in all types.
Moreover, these scanners also have the ability to identify and communicate to the owner the soft or pending codes that might not have been elevated to the level of activating the engine light of the car as yet.
This means you get a wealth of information and data even before the fault gets worsen.
Generally, all the sensors offer the ability of providing a computer input and thus, thus data can easily be viewed through the OBD II Scanner. Some of these scanners also offer an additional feature of providing parameter IDs.
How Does an OBD II Scan Function?
These scanning tools are standardized and each type follows the same system and procedure. This way, it is easy to be managed and controlled and easily understandable. All the scanners are attached to the same connector called SAE J1962.
So how does it work? You can simply start by attaching the plug to the OBD II connector that diagnosis the issue of the vehicle.
If you have got the advanced scanning tools, you might also be equipped with further keys and modules that are required to make your interaction with the scanner more seamless and advanced.
Which OBD II Scan Tool is right for you?
Let us tell you that an OBD II scanner is one of the most precious tools that you may ever have in your toolbox if you are a car junkie.
Let's say you have a vintage car or a model from your father's, and you enjoy working on it for fun or just because it makes you happy, then go for the OBD II scanner!
However, it doesn't mean that you can buy any type that you like without understanding what you require.
The best part is that if you are a DIY kind of a person, you will have a range of scanners and tools to explore so understand each one of them before buying any.
This means, that there are a lot of codes present on the internet that if you explore effectively, you will be able to find the answers you are looking for.
Moreover, several auto parts stores offer free diagnostics to check and codes and identify the issues that your car might have.
In case, you are just interested in basic level information and have a list of PIDs also, then you should look for scanners that are equipped with code readers and offer you the lists.
This, you may, easily get for as low as $100.
Furthermore, if you own a good Android device, you can always opt for an ELM 327 Bluetooth scanner.
This offers the same level of features and is decent on the pockets.
On the other hand, if you enjoy engineering with your car and explore the issue more while liking to be suggested what to do next, you should always go for a DIY scan tool.
These scanners actually make the whole process so much fun if your budget allows you to do so.
The suggested diagnosis and solution is something that you would love to do yourself eventually.
Finally, if you are running a professional business and you own or may be are asked to work on heavy duty trucks then go for the professional one.
Since this is the one that offers the best value and help you to efficiently work with the faults with great accuracy and seamlessness.
Tips to Buy the Best OBD II Scan Tool
Know Your Type
Before thinking about buying an OBD II Scan tool, you should first know what type resonates with you.
IF you are a modern-day Do-it—yourself person or mechanic and want to do things yourself, you should look for that kind of scanner.
On the other hand, of you are running a small auto store, you should buy the kind of features you think customers would want.
In the same way, a heavy duty truck mechanic should only opt for professional options because that is what your work requires to do.
This would only allow you to do your job more effectively and have happy customers.
Thorough Research
Another important factor to consider before buying an OBD II Scanner is do a proper due diligence.
There are a lot of websites that offer actual reviews on each of the types by people who have used these scanners.
You can talk to these reviewers real time and take their input. This is certainly an extensive process but it is the only effective way to know what you want.
The strong your homework and research is regarding the OBD II Scanner, the better decision you will be able to make.
Factors to Consider Before Buying OBD II Scan
Below are the obvious factors that OBD II Scan buyers keep in mind before taking the decision.
You should look for the most affordable option for yourself and the value for money you are getting out of the OBD scanner.
Real-Time Data. You should also look for the richness of the real-time data that the scanner provides Ideally, the data should include information on RPM, temperature of the engine, oxygen and the likes.
This is one of the most important factors for many of the buyers. The scanner should be easy to use, manage and understand. You should not end up with a tool that you can't set up or use in the long run and feel complicated about.
Model Adaptability. The preferred scanner is always the one that can be used on a diverse range of models and not just one. If you are an auto store owner, you would obviously want to buy a tool that goes with more than one car so that it is an effective and a sensible buy for you.
Usually, buyers look for the compatibility of the OBD II scanner with Mac or iOS or any other device that they have. If the tool is not compatible with your own device, then there is no use, however, you will end up spending more money on further buys.
Another important feature is durability of the casing of the tool.
Updates should always be available to keep the scanner up-to-date and to the latest demands. And, the updates should be easily made.
Additional features. To get the maximum value out of your spending, people usually look for additional features or benefits that they may get out of the scanner.
How to Use an OBD II Scan Tool
With the below guide, we have tried to make the setting up of your scanner easier. Use the basic steps as an understanding of getting started with your tool:
To kick the process off, the first step is to install and download the related applications and software needed for your tool to start working. These applications basically play the role of lifeblood of your tool because it is only through its dedicated app through which it will work on your required system. So, either it is your phone or tablet, make sure you have the required apps installed.
Now comes the usefulness of the scanner that will only happen if you connect is DLC or the Data Link Connector with your car's engine. This is how you will be able to get access to your car and communicate with it. The colors on your DLC will determine the placement of each wire. If you are wondering where you will find this connection, then look either below the dashboard or if you are using it in old vintage cars, then look beneath the seat of the driver.
This is the time when you should switch on the device. Usually, the devices come with their own batteries however; if it doesn't have its battery by default then you may also use the engine power to turn it on. If you have turned it on, it will display a light on the screen and will have its keypad's lights on for icons display. In case, you don't see these lights, look for the connection one more time.
Finally, this is the time when you should just run the scanner. This is the best part of the whole process because to reach here, you have done the entire extensive and time-consuming job. Once you run the OBD Scanner, you will get to know if your tool is working fine and also the issues with your car. You will also get to know if your device is working fine if your car shows the engine light on and after the scanning, your scanner tells you nothing – this surely is a sign of a faulty OBD II scanner and you would have to go back to the retailer to get it checked or replaced.
Preventive Measures
These activities require your full concentration and cautiousness because you are dealing with machines. Below are some guidelines to help you take the right kind of preventive measures:
There are special gears and clothing that you should wear before doing any kind of mechanical or engineering stuff. These include goggles, gloves and the likes.
Be sure to read the product manual while you use the scanner on your car. These are electrical activities and should be done with precautions to avoid injuries.
To ensure safety, you should always have tools handy that could help you get rid of any kind of electrical shocks that you are prone to at the point in time.
Lastly, the area you perform all these works at should not be somewhere your family members are present. Ideally, these activities should be done in your garage with all the basic emergency tools in access.
OBD II Scan Tool remains the most sought-after tool by people who love to work with their cars and explore them while understanding each part of them. It is a must-have tool for maximum performance of your vehicle!
—
Source(s):