When it comes to keeping your Volkswagen car in pristine condition, what's going to help the most is preventative maintenance. So if you want to save money and time and prolong it's lifetime, the best thing you can do is buy an OBD2 scanner. Why? It'll help you stay on top of vehicle's engine problems before they do any long-lasting damage.
Also it is a very useful way to keep your vehicle under constant monitoring and thus keeping up a healthy vehicle condition throughout its life.
As a car owner, you also need to have the best OBD2 Volkwagen scan tool. Even if you are a professional, this device will bring out the best analysis for Volkswagen and Audi vehicles.
By the way, what is OBD2?
One of the most exciting improvements in the automobile industry was the addition of on-board diagnostics (OBD) on vehicles. OBD2 was adopted as part of a U.S government mandate to lower vehicle emissions.
Onboard Diagnostics II (OBD2) is a standardized system that is used in onboard computers in cars and trucks for self-diagnostics and reporting.
This sophisticated program in the vehicle's main computer system is designed to detect failures in a range of systems and can be accessed through a universal OBD2 port, which is usually found under the dashboard.
How to use an OBD2 Volkswagen Scan tool?
Using an OBD2 scanner doesn't require any talent. The process is pretty simple.
Turn off your car and plug the OBD2 scanner which is located under the dashboard on the driver's side.
Turn on the ignition key and give some time for the scanner to initialize.
Once the scanner indicates that its ready, key in all the data that is required. This will include the type, model and make of the engine. You can then initiate a read or scan of the vehicle's diagnostic system.
When the scanner completes the scanning process, it will give you a diagnostic trouble code or several codes. You need to transfer them to your laptop using a USB cable or Bluetooth if your scanner is Bluetooth compatible.
Check these DTC codes in the manual to understand what your car is suffering from then turn off the vehicle's ignition and carefully unplug the OBD2 scanner.
Benefits of using a specialized Volkswagen reader:

OBD-II software offers a ton of benefits to car rental service providers.
Here are the reasons you should install OBD tracking units to improve the fleet operations and fuel up the savings:
Ensures driver's  safety: OBD2 unit monitors and creates a report on the driver's performance and also design a safety profile for each driver. Moreover, when the fleets are equipped with active vehicle monitoring and driver safety policies, the likelihood of getting insurance at discounted rates become possible.
Increase the probability of DIY fix: The OBD scanner tools have turned it into cost and time savvy with the possibility of self-diagnosis and reporting on the malfunctioning of the specific component. It eliminates unnecessary repairs with complete information.
High compatibility across vehicles: Although the OBD2 systems vary according to different vehicle types. This way while purchasing a single scanner, the drivers can diagnose any of the vehicles they are provided to pick-up and drop the passengers. It eliminates the need to buy new scanners to diagnose the health of every new fleet you buy.
Reduces pollution: The OBD2 system helps you in knowing that fleet is getting deteriorating with age and emission control is in the need of repair. Also, the requirement of regularly inspecting the emission is alleviated. This, in turn, reduces a fraction of cost spend on fuels due to the greenhouse gas emission and most importantly the environment gets less polluted.
Who can use OBD2?
The great feature of modern cars is that they are fully computerized and if you are an owner of Volkswagen or Audi, having a VAG-COM  diagnostic system will ensure that you can maintain the vehicle to operate at its peak performance which is more economical in the long run.
This VW diagnostic scanner is a great standalone device that you can prefer to use in the Audi and VW vehicles for the best performance.
If you are someone who is an enthusiast, then you must install an OBD2 scanner in your vehicle. Its functions are easily manageable by anyone whether you are a beginner or professional.
Hence you might feel a bit confused to determine which should be the most suitable option for you. But don't worry, we have sorted out some of the best products that are presently available on Amazon.
1) XTOOL Vag401 Code Reader for VW Audi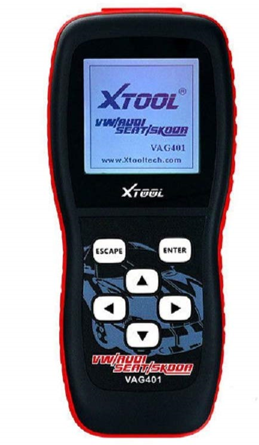 XTOOL code reader diagnostic tool is a perfect fit for the Volkswagen and Audi models. It comes with oil reset and SRS reading for the drivers.
XTOOL supports various protocols of OBD2 such as J1850, CAN, KWP2000 and ISO9141. You have to plug in the machine into the port of OBD2 to make it work smoothly and then it runs the diagnostics without any hassle.
If there is trouble in the vehicle, then it will show you on the display screen. You can erase the codes along with reading it in the modes of airbag, transmission, engine and other systems of the vehicle.
In addition to this, you can view the live data of the performance within the vehicle along with building history in the Volkswagen scan tool. There are sensors, monitor and performance modules available with this machine as well.
It also helps you to know whether the vehicle can pass through the smog test easily or not. Thus works great for enthusiasts and mechanics.
2) Autel MST505 Code Reader OBD2 OBDII Scanner with Oil Reset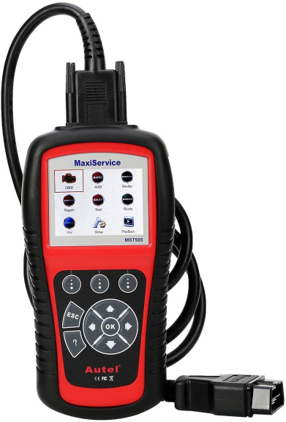 Autel MST505 OBD2 scanner is designed to work with the Skoda, VW and Audi models.
It offers various functions such as MIL turn off, DTC erasing, live data,  freeze frame, monitor onboard and much more. Moreover, it comes with the advanced support of clearing codes from the ABS and airbags.
If you want to get a thoughtful tool with then this is the best option to consider for Volkswagen vehicles. It has resistance to get damaged or any scratches when you are driving the vehicle.
The rubber boot protects it at all times so you can carry it and take it anywhere you want even if you are on the bumpy roads.
Besides, you don't need to install additional software to get started with the Audi OBD2 scanner as it already has the VAG-COM.
This Autel VAG-COM scanner can be easily managed at home or professional mechanic.
3) iCarsoft Professional Multi-system Auto Diagnostic Tool VAWS V2.0 for Audi/VW/Seat/Skoda, Oil Reset, DPF Reset, BMS Reset INJ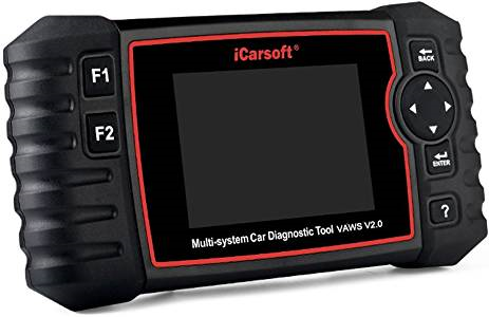 iCarsoft Professional is a user-friendly auto diagnostic tool specially designed for Audi and VW. It is an easy to use tool which helps you to diagnose the vehicle within seconds by just plugging it in the port of OBD II.
With the iCarsoft diagnostic tools, you can access the live data streaming off the car and detect it quickly if there are any issues.
There are different test modes as J1850, ISO9141, CANBUS and more which you can assess through this device. Due to the various ways, you can fix multiple complex problems of the vehicle without wasting any time.
4) ANCEL VD500 OBD II Diagnostic Scanner for Volkswagen VW Audi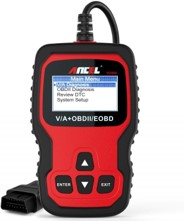 ANCEL is a full system diagnostic scanner that is compatible with Volkswagen and Audi models. This device helps in clearing up the trouble codes which you can easily read.
It includes multiple features of transmission, ABS, SAS, TPMS and overall the entire systems of the vehicle. Additionally, there is also a service reset and battery monitoring system available which you can use in the Volkswagen models.
The EPB reset button is also there with the unit diagnosis to make sure that the car does not throttle when it is moving fast.
Furthermore, the electronic stability program in the device helps in keeping continuous detection of the problems. It also keeps the skidding level reduced overall within the vehicle.
5) AUTOPHIX V007 Scanner for Volkswagen VW Audi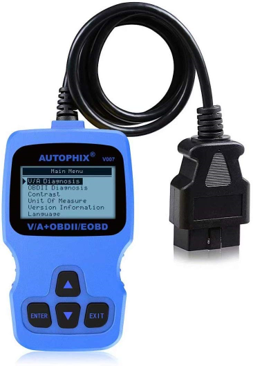 It is best to start with AUTOPHIX diagnostic tool as it comes with the free option of oil service reset. The design is compatible with all the Volkswagen vehicles and Audi models. Vehicles that are OBD2 compliant will be able to get the installation of this device without any hassle.
The VW scan tool is reliable and an excellent source of getting to know the vehicle in a better way.
You can read and erase the codes when you do not need them later on the VAG-COM. With the AUTOPHIX diagnostic tool, you can get the reading for transmission, ABS, SRS and other 120 systems in the vehicle. There is nothing better than knowing what is wrong with your vehicle when it is behaving out of the ordinary.
Moreover, it comes with essential functions that are necessary to maintain the overall service.
It is a trouble-free best OBd2 scanner for the Volkswagen tool which you can use as a start and then move to an advanced version when you get a complete hold of it.
OBD2 systems can be regarded as the miraculous bonus of modern science which has made our life easy and convenient.
It offers you enhanced access to various systems and mechanisms working inside the car and informs if the vehicle is having a problem in any of its components.
Having a good VAG-COM scan tool can help Volkswagen owners and mechanics troubleshoot the cars and identify problems without going to the dealer.
Grab the best scanner for your Audi, Skoda, Seat, or Volkswagen to perform your own diagnostic and troubleshooting efficiently.